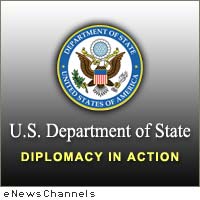 WASHINGTON, D.C. /eNewsChannels/ — The U.S. Department of State has assisted the Ministry of Defense of the Republic of Bulgaria in safely destroying 500 surplus Man-Portable Air Defense Systems (MANPADS) missiles and 500 grip stocks (launchers). Following the disposal operation, the Department of State will provide additional funding to support clearance operations around the Chelopechene Ammunition Storage facility, where a catastrophic explosion of obsolete munitions occurred in 2008. U.S. assistance and funding was provided by the Office of Weapons Removal and Abatement in the Bureau of Political-Military Affairs (PM/WRA).
The United States, working with the Slovene International Trust Fund for Humanitarian Demining and Victims Assistance (ITF), will provide approximately $2.2 million to fund contractors who will provide advice, logistical assistance, training, and clearance support for the Chelopechene cleanup. In addition, the United States and the ITF also will facilitate the clearance of 13 acres of the nearby river channel and small lakes in partnership with the Regional Center for Underwater Demining (RCUD) in Montenegro.
Developed in the 1950s, MANPADS were designed to provide military ground forces protection from enemy aircraft. However, in recent years, terrorists have actively sought out these weapons systems because of their portability, ease of concealment, and potential threat to civilian aviation. Since 2003, U.S. Conventional Weapons Destruction efforts have helped safely dispose of more than 32,000 excess, loosely secured, illicitly held, or otherwise at-risk MANPADS in 30 countries worldwide.