SAN FRANCISCO, Calif. — Professionals Guild announced today that it will host its annual Un-Valentines Dance Party and Mixer for Singles at the Golden Gate Yacht Club, in San Francisco, 1 Yacht Rd., Saturday, 2/2/08 from 8pm to midnight. This party is especially designed for those who currently do not have a valentine, hence the name Un-Valentines party.
Although the majority attending the party are eligible bachelors and bachelorettes, some couples enjoy attending too. "Couples tell me they enjoy coming because 'singles know how to party!'" said Phil Seyer, Director of public relations for Professionals Guild.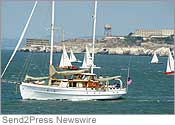 This Un-Valentines party features: 1) Panoramic views of the Bay, 2) An optional mixer game with prizes to make it easy to meet new people, 3) Great dance music from the 70's, 80's, and 90's to current hits, 4) Free Parking, 5) Free H'orderves, 5) An optional salsa dance lesson, 6) A no host bar. People of all ages are welcome. The typical crowd might be described as single professionals, age 25 up with many in their 30's, 40's, and 50's.
About 250 to 300 singles are expected to attend. One need NOT be a professional to attend the party, just an interest in meeting professional people. The cover at the door is $25. Professionals Guild is also planning a smaller "house party for singles" in Pleasant Hill on Sat. 2/9/08.
For those singles that enjoy basketball, Professionals Guild will also host pre and post game Un-Valentines parties in Sacramento at the ARCO ARENA on 2/8/08. Free wine tasting is offered before the Sacramento Kings vs. Utah Jazz game. A dance party is planned after the game.
Another Un-Valentines party is slated for 2/15/08 at the Hilton Hotel, Arden West, in Sacramento.
About Professionals Guild
Professionals Guild is a unique social organization dedicated to single professionals in Sacramento and the San Francisco Bay Area. Since 1985 Professionals Guild has offered monthly parties and mixers as well as New Years Eve extravaganzas for singles. A sell-out crowd of more than 1000 attended the New Years Eve Ball at the San Ramon Marriott for singles 12/31/07.
More information online: http://www.pguild.com
[tags]Professionals Guild, UnValentines Dance Party, Mixer for Singles Golden Gate Yacht Club[/tags]