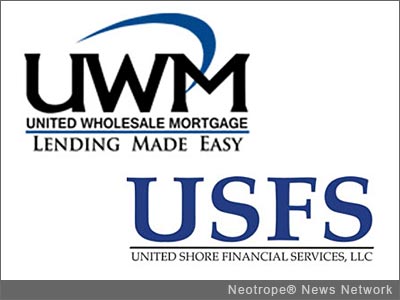 TROY, Mich. /eNewsChannels/ — NEWS: United Wholesale Mortgage (UWM), one of the largest wholesale mortgage lenders in the nation, and its parent company United Shore Financial Services (USFS), today announced it has been recognized for multiple local and national awards in 2013 having to do with the development of its unique corporate culture.
"For me, the importance of these awards is that they're about our people," said Mat Ishbia, president of UWM and CEO of USFS. "Our people are the key to our success. It's great when outside organizations recognize the hard work, respect and fun that is part of our everyday work."
In addition to being named a Top Workplace by the Detroit Free Press and one of Metro Detroit's 101 Best and Brightest Companies to Work for the second consecutive year including an Elite Award for Employee Achievement and Recognition, USFS has been recognized as one of the National Best and Brightest Companies to Work For.
With tremendous growth over the last two years, the company continually thinks outside the box in how to create a corporate culture and environment that makes people feel good and appreciated from the minute they arrive at work.
Among the amenities built exclusively for their employees:
* Complimentary valet parking, as highlighted in a recent Forbes article titled "9 Cool Work Perks That Could Be In Your Future"
* On-site Starbucks
* Dry-cleaning service
* Health club
* A modern, high-energy, open office layout.
Earlier this year, USFS brought its more than 1,200 employees together under one roof at their new state-of-the-art corporate headquarters. The move consolidated all of the company's team members from four locations in Birmingham and Troy, Mich. into a single location on four floors with more than 140,000 square feet of new space. Company officials say the move has been instrumental in developing their one-of-a-kind working environment.
"Creating a rewarding and energetic environment for our people is central to what we do," Ishbia said. "This is by design because we believe happy people equals happy clients."
USFS and UWM emphasize career growth with daily and long-term employee training programs, and multiple recognition programs to award employees. With its roots as a family-owned company, Ishbia makes a point of walking the floors daily to get to know all 1,200 employees. "We want everyone at USFS to have a family-feel even when they're not at home with their own families," Ishbia said.
About United Wholesale Mortgage:
Headquartered in Troy, Michigan, United Wholesale Mortgage underwrites and provides closing documentation for residential mortgage loans originated by mortgage brokers, banks, credit unions and correspondents. UWM provides unparalleled service with its deep understanding of the mortgage process using its talented team of account executives, underwriters, closers and funders, who have years of experience with intricate knowledge in wholesale.
UWM's positive teamwork and dedication to exceptional customer service has resulted in continued success and growth that has spawned expansion. For more information, visit http://www.uwm.com/ or call 800-981-8898.
About United Shore Financial Services:
Headquartered in Troy, Michigan, USFS was founded 27 years ago and is one of the largest, fastest growing independent mortgage lenders in the United States. It operates three brands: United Wholesale Mortgage, Shore Mortgage and Capital Mortgage Funding. United Wholesale Mortgage is one of the largest wholesale mortgage lenders in the country, while Shore Mortgage is a nationally known, direct-to-consumer mortgage lender.
Capital Mortgage Funding is a leading mortgage lender in southeastern Michigan. Together, the company employs more than 1,200 team members. For more information, visit http://www.unitedshore.com/ .
This version of news story is Copr. © 2013 eNewsChannels™ (www.enewschannels.com) and the Neotrope® News Network – all commercial and reprint rights reserved. Unauthorized reproduction in whole or in part without express permission is prohibited.