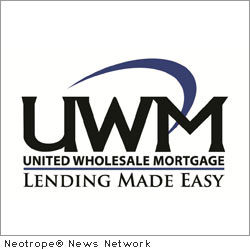 BIRMINGHAM, Mich. /eNewsChannels/ — United Wholesale Mortgage (UWM), a national wholesale mortgage lender operating in 47 states, announced that it has successfully implemented Fannie Mae's HARP 2.0 program requirements with Unlimited LTV/CLTV. UWM was one of the first lenders to implement the government's adjustments to HARP 2.0 when it went into effect December 1, 2011, and now they have effectively implemented the expansion of HARP 2.0 into their EASE (Easiest Application System Ever) broker portal.
"With the heavy volume of HARP 2.0 submissions that we are receiving, UWM has not faltered in providing superior customer service, communication and consistency," said Mat Ishbia, president at UWM. "Our swift implementation of HARP 2.0 is proof that UWM's exceptional staff can meet and exceed broker expectations in all areas of operations and with every product offering. At UWM, we want to make it as easy as possible to do business with us; investing in resources to quickly implement HARP 2.0 for our brokers was atop the priority list. This high level of service and speed to market holds true to our company wide mantra of 'Lending Made Easy.'"
Some details of UWM's HARP 2.0 offering include:
* Unlimited LTV/Unlimited CLTV;
* Property inspection waivers (PIW's) are acceptable;
* No DTI restrictions;
– With approve/eligible findings;
* High balance loans are eligible;
* Condos are acceptable;
* LLPA caps are in effect.
On March 13th and 16th, 2012, UWM held free webinars covering the benefits and details of HARP 2.0 now that it is integrated with DU. More than 2,000 mortgage professionals participated in these webinars to learn how they can take advantage of HARP 2.0 at UWM.
In addition to HARP 2.0, UWM recently rolled out The Big & Easy, a True Jumbo loan up to $2.5 million, as well as the ability to help their brokers become bankers by issuing a correspondent line. To round out their spectrum of product offerings, USDA will be available in April 2012.
Interested parties can learn more about UWM and the HARP 2.0 program by calling the company at (800) 981-8898 or via email at harp@uwm.com.
About United Wholesale Mortgage:
Headquartered in Birmingham, Michigan, United Wholesale Mortgage underwrites and provides closing documentation for residential mortgage loans originated by mortgage brokers, banks, credit unions and correspondents. UWM provides unparalleled service with its deep understanding of the mortgage process using its talented team of account executives, underwriters, closers and funders, who have years of experience with intricate knowledge in wholesale. UWM's positive teamwork and dedication to exceptional customer service has resulted in continued success and growth that has spawned expansion. For more information, visit www.uwm.com .
Copyright © 2012 Neotrope® News Network – all rights reserved.