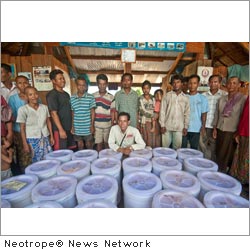 SAN FRANCISCO, Calif. /eNewsChannels/ — Destination Earth has announced the launch of their unique Voluntourism Travel concept with a tour to Cambodia and Vietnam. This adventure highlights their business model, which offers fun, safe adventure tours to those who would like to travel responsibly and give back while enjoying their vacation.
On January 16, twelve travelers are going to Vietnam and Cambodia for an Eco Volunteer trip. Days will be spent both seeing the sites, and donating supplies, teaching English, and staying and eating at facilities that are helping the many people in need. The final two days culminate in a village stay where guests put the finishing touches on a bridge that the group sponsored. This footbridge will allow children to get the education and nourishment from a local nonprofit school that has been inaccessible during monsoon season.
In addition to this project, Destination Earth will be providing a variety of local and international adventure tours into 2012 and beyond. This includes adventures into South America, and shorter Northern California adventure tours as well.
Company president Jud Yaski says, "It's about time that there is an opportunity for individuals to both take an exciting trip and help the planet at the same time."
As well as group tours, Destination Earth will be offering these adventures as both Team Building exercises for companies, and as corporate incentive travel, allowing companies to both provide a benefit to their staff and contribute to their social responsibility goals.
The company's model is to offer intimate adventures with no more than 15 people per trip, allowing the groups to maneuver easily through the varied locals that their trips take them. All trips are designed to not only highlight the "must sees" of an area, but also take guests off the beaten path, to unique environments they would never encounter on their own.
About Destination Earth, Inc.:
The company is the brainchild of Veteran Event producer and world traveler, Jud Yaski. He has partnered with successful adventure travel founder Steve Juba, combining their combined quarter of a century in hospitality to create the ultimate travel experience: Destination Earth.
For more information on the next adventure, or to design a custom adventure with meaning, visit www.destination-earth.org or call 650-533-5487.
Copyright © 2012 Neotrope® News Network – all rights reserved.