NEW YORK CITY, N.Y. — Prominent, former Hollywood based, international actress / director / producer, Anna Wilding, was injured while walking on West 40th Street in Midtown Manhattan. Wilding sustained a broken finger, torn left shoulder rotator cuff, sprained elbow and other associated injuries when she fell due to a pavement grating defect. A notice of claim has been filed by Wingate, Russotti & Shapiro against NYC Transit Authority and the City of New York as result of the injury.
Wilding recently moved from Los Angeles to New York. Her most current released projects include the film "Buddha Wild Monk in the Hut" which she directed. The injury has temporarily delayed further public screenings of the film.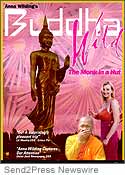 The film may have become additionally topical with increased interest and sales on Amazon.com, possibly due to recent issues in Myanmar. Wilding gave a speech at the last Earth Week in New York in discussion of the topic "The Environment and Nature in Relation to Buddhism and Spirituality," along with political figureheads like Ralph Nader and Environmental Scientist Dr. Kevin Denneher.
She is also the editor of her blog: http://www.bubblegumpop.vox.com. Wilding is CEO of Carpe Diem Films, LLC, a Beverly Hills based company.
Her great uncle, Anthony Wilding, won Wimbledon ten times and is inducted into the International Hall of Tennis Fame in Rhode Island. She was just thanked by New Line Cinema for her humanitarian work on the Oscar(R)-winning film trilogy "Lord of the Rings."
[tags]Buddha Wild Monk in the Hut, actress Anna Wilding, Wingate Russotti and Shapiro LLP[/tags]