WASHINGTON, D.C. /eNewsChannels/ — As part of our engagement with emerging African partners in addressing the challenge of climate change, the U.S. Department of State will sponsor Apps4Africa: Climate Challenge, a public diplomacy program comprised of three African regional competitions to address local climate change challenges through the use of mobile technology.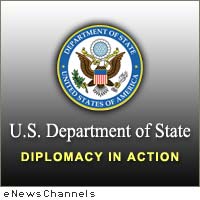 In coordination with software developer Appfrica International, the U.S. Department of State will bring civil society, academia and private sector organizations together with African technology innovators to develop applications that address local climate change adaptation challenges. In doing so, we seek to raise African public awareness of climate change adaptation and U.S. involvement in Africa on these issues; support the development of civil society and private-sector networks; and highlight African solutions to local climate change adaptation challenges.
The 2011 competitions are linked to three African regional climate change workshops organized by the U.S. Agency for International Development and the U.S. Department of State. The workshops are part of the broader Adaptation Partnership, which brings together practitioners and policy-makers to address key adaptation challenges in their region. Climate change issues identified at these workshops will be used to inspire ideas for mobile applications for the competitions.
The Apps4Africa: Climate Challenge builds on the success of the 2010 Apps4Africa: Civic Challenge in which civil society challenged program developers to find innovative technological solutions to everyday problems on issues ranging from transparency and governance to health and education. The 2011 competition begins in Western and Central Africa in September, with Eastern and Southern Africa to follow. Winners will receive prizes, including cash awards. Private partners, including TED and Indigo Trust, are contributing technical assistance, prizes, and follow-on support for the new partnerships created by this platform.
For more information please visit .