CINCINNATI, Ohio — Designer Allie Yoko (founder of Emerald Brand Fashions) introduced her spring line of Black Orchid Eco-Fashion products and announced a student design competition. Allie created her spring Black Orchid Eco Fashion limited edition leggings and hoodie using certified bamboo fabric woven in the U.S. and with garment manufactures in the USA. Allie Yoko is the founder of Emerald Brand Fashions and a Senior Design student at the University of Cincinnati. While developing concepts for her "Love the Earth" Capstone Project, Allie created Emerald Brand Fashions to fund her passion. Allie's "Love the Earth" mission is to preserve the environment for future generations and educate others on ways they can make a difference.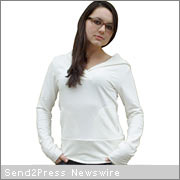 While doing research on ways to reduce the wasteful use of our natural resources she discovered the many benefit's (www.blackorchidfashion.com/advantage.html) of bamboo. Now, as part of Allie's mission she wants to help educate people on the benefits of bamboo fiber for clothing as well as promoting sustainability, saving the earth, and ways we can all reduce our carbon footprint.
Also, to differentiate herself from the trend to export jobs overseas she has worked with domestic garment manufacturers to support the ailing U.S. garment industry. Her limited edition Black Orchid Fashion leggings and hoodie are made with certified bamboo yarn made into fabric in the U.S. and her products are produced in California.
In support of designer Allie Yoko's "Love the Earth" educational promotion Emerald Brand Fashions is sponsoring their 1st Annual Student Eco Fashion Design Contest. Utilizing certified bamboo fabric made in the United States for all products. To learn more about our Eco Fashion Design Competition visit our Black Orchid Fashions web site.
To help support our educational efforts you can order your own limited edition Black Orchid Fashion leggings and hoodie now at www.blackorchidfashion.com. Supplies are limited and certain sizes may be temporarily out of stock due the overwhelming support for our mission.
"Love the Earth" and take responsibility for doing your part to make a difference. If everyone could take small steps in the right direction it would result in a giant leap toward preserving the natural environment for our children.
[tags]fashion designer Allie Yoko, Emerald Brand Fashions[/tags]