PHILADELPHIA, Pa. — Bookbinder Specialties, a Pennsylvania company, acquired the Bookbinder's Soup and Seasonings Division from the Stephens' Original Foods Company of Huntingdon Valley, PA, on June 23, 2009. The soups and seasonings are based on favorite recipes from the Old Original Bookbinder's restaurant, established in 1865 in Philadelphia's historic Old City.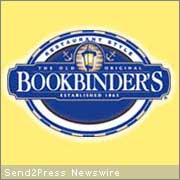 The Media, Pennsylvania-based Bookbinder Specialties Company will be directed by Sean O'Neil. Prior to establishing Bookbinder Specialties, O'Neil held a variety of management positions at DuPont, a science-based product and services company, in Delaware.
O'Neil's short-term goals for growing the Bookbinder's Soups & Seasonings brand focus on expanding the product line and strengthening distribution.
"We see an increasing demand for healthy, restaurant quality food, ready-to-serve in the convenience of your own home," said O'Neil. "Bookbinder Specialties will merge the tradition and heritage of the old favorites with the expectations and tastes of today's gourmet consumers."
The current Bookbinder's product line features fresh seafood from the eastern U.S., and includes bisques (lobster, crab, shrimp, and seafood), snapper soup, New England and Manhattan clam chowders, oyster stew, clam sauces, clam juice, breadcrumbs, and seasonings.
Distribution is throughout the U.S., with concentration in the Northeast.