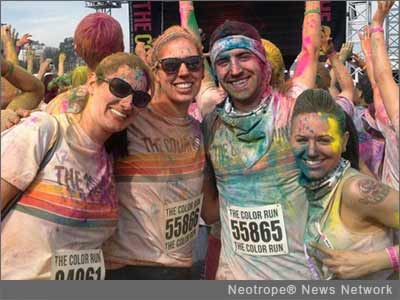 PETALUMA, Calif. /eNewsChannels/ — NEWS: EPIC (Edgewood Partners Insurance Center), a retail property, casualty and employee benefits insurance brokerage, today announced that the North Bay Business Journal has recognized EPIC as a "2013 Healthiest Company in North Bay." The North Bay office of EPIC participates in a companywide wellness program, led by a volunteer committee that has garnered impressive results over the last four years.
"We believe that the various wellness benefits we offer provide long-term results for our employees and for our company. When employees feel their best in body, mind and spirit, they and their families benefit, EPIC benefits and our clients benefit," says Mary Smith, Director of Human Resources.
The North Bay Business Journal recognized "outstanding efforts of businesses across the North Bay in the critical movement toward wellness." EPIC is one of just 21 companies to be honored with the designation.
This year's winners were chosen based on the scope and effectiveness of their wellness initiatives. Assessments were based on how the program helped control employer health care costs and produce measurable improvements in employee morale and productivity.
EPIC's dedication to wellness in the workplace is changing the lives of its employees. Among EPIC's Petaluma employees, several have eliminated medications or discovered undiagnosed health problems through the company's biometrics assessment program. Others have lost weight and lowered cholesterol and blood pressure numbers.
To build camaraderie and encourage fitness, employees across the company also regularly participate together in local events such as the Leukemia & Lymphoma Association's Light the Night Walk, The Color Run and the American Heart Association's Heart Walk.
For four years, EPIC has delivered its employees these extensive wellness programs. By providing offerings such as annual biometric screenings, the identification of major health risks, and medical benefits premium incentives, EPIC continues to effectively promote the health and wellness of its employees.
About EPIC:
EPIC is a unique and innovative retail property & casualty and employee benefits insurance brokerage and consulting firm. EPIC has created a values-based, client-focused culture that attracts and retains top talent, fosters employee satisfaction and loyalty and sustains a high level of customer service excellence. EPIC team members have consistently recognized their company as a "Best Place to Work" in multiple regions across California and as a "Best Place to Work in the Insurance Industry" nationally.
The 8th largest broker based in the U.S. West, EPIC has more than 300 team members operating from ten offices across California (Los Angeles, Irvine, Ontario, Inland Empire, Fresno, Folsom, San Francisco, San Mateo, Petaluma and San Ramon) and in Chicago, Denver and New York.
With more than $80 million in revenues, EPIC ranks among the top 40 retail insurance brokers in the United States. The company's strategic plan calls for more than tripling revenue over the next five years ($250 million by 2018) and further expansion across the country. For additional information, please visit http://www.edgewoodins.com/ .
This version of news story is Copr. © 2013 eNewsChannels™ (www.enewschannels.com) and the Neotrope® News Network – all commercial and reprint rights reserved. Unauthorized reproduction in whole or in part without express permission is prohibited.