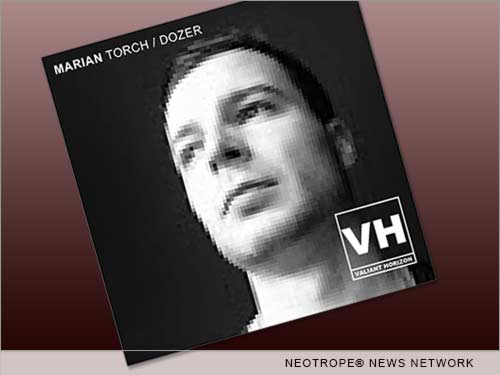 ATLANTA, Ga. /eNewsChannels/ — NEWS: Atlanta-based EDM label, Valiant Horizon (VH) today announced the new double-single "Torch" / "Dozer" from VH artist and German electronica musician Marian. The "Torch" and "Dozer" tracks were released on Aug. 12, 2014 via Valiant Horizon to major online retail outlooks including Amazon, iTunes and Spotify.
The new double-single from Marian certainly personifies the unique ability of the young German artist to produce compelling musical pieces that are both thought-provoking easy-listening electronica gems as well pulsating dance tracks.
"Torch" is an intriguing tech house number that draws the listener into its suave and ear-pleasing appeal. "My inspiration for my tracks arises from my actual situation; a new start in a new way and looking to the future like following a torch light in the dark," states Marian. The latest release from Marian is certainly a one-two punch by coming along with the brooding "Dozer" track – which gives the talented emerging electronic musician yet another exciting EDM masterpiece to his credit.
Hear "Torch" and "Dozer" now on iTunes: .
About Marian:
Marian is a talented electronic musician out of Chemnitz, Germany. As an avid fan of the EDM scene, moving from listener to creator was a natural progression for the young German artist. After a spike of inspiration, he produced his first single "Gedop" along with the "Phantom" album quickly followed by his "Lost" LP. Marian is certainly a very prolific EDM maestro. Valiant Horizon is excited about having him officially join its artist roster. Learn more about Marian: https://soundcloud.com/marian01 .
About Valiant Horizon:
Valiant Horizon is an emerging U.S.-based brand out of Atlanta, Georgia. As both a music label and production unit as well as communications organization, the company has a mission to deliver quality top-notch releases in the house, techno and trance genres for the worldwide dance music community. Navigating through everything from daring progressive territory to upfront high energy, the Valiant Horizon music label seeks to probe and champion the compelling panorama of today's dynamic electronic dance music scene with an exciting 2014-15 musician roster.
From the U.S. to Eastern Europe and more, the Atlanta-based label's artists include the experimental Dream Attackers co-op, rising Dutch DJ/producer Rodger Forrest, Valiant Horizon's own in-house production resource Thought Leaders, Polish trance/house DJ/producer Lorchee, American EDM artist/DJ Terry Sartor and the hot up-and-coming dance music unit American Strategy.
Find out more about Valiant Horizon: https://www.facebook.com/valianthorizon .
This version of news story is Copr. © 2014 eNewsChannels™ (www.enewschannels.com) and the Neotrope® News Network – all commercial and reprint rights reserved. Unauthorized reproduction in whole or in part without express permission is prohibited.