SAN MARINO, Calif. — Epeius Biotechnologies Corporation today announced that Rexin-G has been granted Orphan Drug Designation by the U.S. Food and Drug Administration (FDA) for the treatment of osteosarcoma. Based on several criteria, including the rarity, seriousness, and current lack of effective therapies for metastatic osteosarcoma, as well as the scientific and medicinal merit of Rexin-G, the granting of Orphan Drug Status by the FDA validates the unique clinical development strategy of Epeius Biotechnologies: that is, to demonstrate the profound single-agent efficacy of Rexin-G where traditional treatments have historically failed.
The FDA Orphan Drug Act was designed to encourage the development of new products that demonstrate significant promise for the treatment of very serious or life-threatening conditions that are relatively rare, affecting fewer than 200,000 persons in the United States.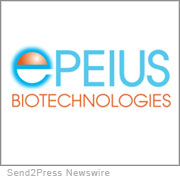 Orphan Drug Designation provides important economic incentives and powerful market protections that encourage the development of innovative products in the cancer field. U.S. Orphan Drug Designation provides seven years of market exclusivity for Rexin-G, a reduction in fees and taxes, and additional regulatory support for R&D initiatives.
About Rexin-G
Rexin-G(R), the lead product of Epeius Biotechnologies, is the first in a series of tumor-targeted anti-cancer agents designed to seek out and accumulate in metastatic cancers that have spread throughout the body, delivering a lethal payload of genetic medicine to tumor cells and their associated blood supplies without harming normal cells, tissues, or organ systems. Specifically designed to function within the context of the human circulatory system, the demonstration of single agent-efficacy by Rexin-G in Stage IV or metastatic osteosarcoma (ASCO, 2008) is an indication of the remarkable clinical potential of the precision targeting technologies embodied in its design. The Orphan Drug designation by the FDA represents an important milestone in the clinical development of Rexin-G for osteosarcoma.
About Epeius Biotechnologies
Epeius Biotechnologies Corporation is a privately held biopharmaceutical company dedicated to the advancement of genetic medicine with the development and commercialization of its proprietary targeted delivery systems. Credited with innovations ranging from gene discovery, designer therapeutics, pathotropic (disease-seeking) targeting, vector engineering, to advanced biopharmaceutical manufacturing and bioprocess development, Epeius Biotechnologies is well positioned to "launch" its enabling platform biotechnologies for the benefit of cancer patients worldwide.
To learn more about our pipeline of proprietary biotechnologies that are currently available for licensing and clinical development, please visit us at http://www.epeiusbiotech.com.
[tags]Epeius Biotechnologies, biopharmaceutical manufacturing, bioprocess development, FDA Orphan Drug Act, therapies for metastatic osteosarcoma[/tags]