MIAMI, Fla. — Southern Bleacher Company, based in Graham, Texas, is pleased to announce that, in conjunction with lead contractor Odebrecht of Coral Gables, Florida, Southern Bleacher will provide seating for Florida International University's vast stadium expansion. "This will be the crown jewel of FIU's athletic department," Athletic Director Pete Garcia said. "The stadium will be the vehicle that will take the athletic department to the next level."
An integral player in the construction contract, Southern Bleacher will initially install 14,000 chairback seats and bench seating to expand seating capacity to 18,583 for phase two. Additional phases will expand seating to 43,057. When completed in 2008, the new stadium will be the only Division I on-campus football stadium south of Orlando in Florida.
"We look forward to building an excellent facility; one that will enhance the campus environment and contribute measurably to FIU athletics, student life and the broader community," said Gilberto Neves, CEO of Odebrecht Construction, Inc.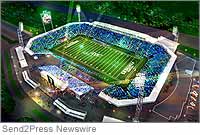 Garrett Pettus of Southern Bleacher added, "The FIU project represents a significant achievement for both our company as well as the university, its fans and perspective student athletes looking to build a championship program."
Since 1946, Southern Bleacher has set the standard of excellence in design and manufacturing of sports stadiums and entertainment venues; they are the nation's largest stadium manufacturer. The FIU contract announcement follows May 9, 2007 rave reviews Southern Bleacher received for their newly-unveiled Richmond International Raceway TORQUE Club (http://www.catchfence.com/press/050907g.html).
Southern Bleacher's comprehensive services include budget analysis, estimates, proposal drawings and specifications at no cost. Clients will benefit from their vast experience in addressing the myriad of building-code requirements, accessibility issues, safety requirements and lines of sight that fans will cheer about. Southern Bleacher's products grace soccer fields, college campuses, school districts, NASCAR tracks and rodeo arenas across the U.S.
From concept to reality, Southern Bleacher is customer driven works closely with planning committees and project architects to create facilities that are timeless and cost effective.
"We have made our mark in the industry by constantly finding new ways of addressing facility designs and seating systems required," Pettus said. "Solving our customers' needs, while providing superior and innovative products, has always been a top priority."
For more information, visit: http://www.southernbleacher.com/fiu .
[tags]Southern Bleacher Company, Florida International University, stadium expansion, Gilberto Neves, Odebrecht Construction, Garrett Pettus[/tags]