HYDERABAD, India — Today, Hyderabad and Los Angeles based Gameshastra Inc, announced a partnership with Sony Computer Entertainment Europe (SCEE) to build a game on the PlayStation(R)2 platform for the Global market. The game will feature traditional Indian sports like Kho Kho, Kabaddi, Gulli Danda, etc. SCEE plans to grow the market in India and other countries for PlayStation 2 game software, by collaborating with local developers like Gameshastra to produce games targeting consumers in South Asia and the Indian Diasporas globally. The game is expected to release in Spring 2009.
Prakash Ahuja, CEO of Gameshastra, said, "A typical Indian Gamer is a city-bred youth who has no idea about traditional Indian Games. These games have an inherent Indian rustic appeal to them which will be appreciated by Indian Gamers if presented in an interesting format We are confident that the old world charm of these games would appeal not only to people in India but also to the Indian Diasporas worldwide."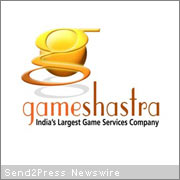 Speaking about the partnership with Gameshastra, the COO of SCEE, Jim Ryan said, "We feel that the Indian Gaming market with its current growth has reached a level where a new concept like this can be tried and we expect it to do very well. We are delighted to be partnering with Gameshastra in this endeavor and have every belief that it will be a huge success."
About Sony Computer Entertainment Europe Ltd
Sony Computer Entertainment Europe (SCEE), based in London, is responsible for the distribution, marketing and sales of PLAYSTATION(R)3, PlayStation(R)2, PSP(TM) (PlayStation(R)Portable) and PLAYSTATION(R)Network software and hardware in 99 territories across Europe, the Middle East, Africa and Oceania. SCEE also develops, publishes, markets and distributes entertainment software for these formats, and manages the third party licensing programs for the formats in these territories. Maintaining its position as one of the most successful consumer electronic products in history, PlayStation 2 has sold over 129 million systems worldwide.
Since its launch at the end of 2004, over 37.5 million PSPs have been sold globally, highlighting the importance of the portable entertainment market. With the huge increase in interest and accessibility of network applications and network gaming, over 9 million people have registered to the PLAYSTATION Network, the free-to-access interactive environment, and 160 million items have been downloaded.
More information about PlayStation products can be found at
www.playstation.com.
About Gameshastra
Gameshastra, India's largest game services provider, operates a state-of-the-art Game Development Studio in Hyderabad, India creating games across all major platforms. For more information visit www.gameshastra.com.
[tags]Indian Playstation 2 games, Gameshastra Inc, Sony Computer Entertainment Europe, traditional Indian sports like Kho Kho, Kabaddi, Gulli Danda, CEO Prakash Ahuja, SCEE COO Jim Ryan[/tags]