GAITERSBURG, Md. — GateKeeper USA, Inc., formerly Legendary Superstars, Inc. (Pink Sheets: LSPS / LSPS.pk) announced today the resignation of Mr. Roy Vinkemeir and the appointment of Mr. James W. Wishart as Chairman of The Board and Chief Executive Officer of the company. Mr. Wishart has assumed global responsibilities for the Corporation effective November 30th, 2007 and has taken the lead in development and launch of the company's container security device, Container Automated Monitoring System (CAMS).
"We are very pleased to have Mr. Wishart, an executive with extensive CEO and senior management experience, coming to GateKeeper USA. With his knowledge and prior experience in instrumentation we have a real advantage in converting our recent product launch into shareholder value," said Roy Vinkemeir, the former Chief Executive Officer op the company.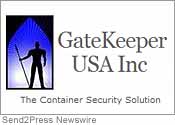 Prior to joining the company, James W. Wishart served as Chief Executive Officer of Capital Genomix Inc. Mr. Wishart is the founder of JWL & Associates, has served as Managing Partner of JWL & Associates since its inception in 2000. From 1987 to 2001, Mr. Wishart served in various positions with Thermo Electron Corporation, a $2.5 billion public company (NYSE Symbol: TMO) including the President and Chief Operating Officer of Dynex Technologies, Inc., President and Chief Operating Officer of Spectra-Tech, Inc and Vice President of Finance/Controller of Thermo Separation Products.
Under the leadership of Mr. Wishart, Dynex Technologies, Inc. developed a complete new product line for the Clinical Diagnostics Market and merged with Thermo Labsystems. Mr. Wishart played an instrumental role in establishing Spectra-Tech as the worldwide leader in marketing of FTIR microscopes, FTIR accessories and software for the analytical instrumentation market.
While at Spectra-Tech, Mr. Wishart was instrumental in conceiving and implementing a sales strategy that resulted in a 25% increase in revenues. Mr. Wishart served in several capacities with Thermo Separation Products, Inc., including Vice President-Controller, Vice President of International Marketing and General Manager. There he completed a $50 million acquisition and restructured the company's operations, resulting in savings of $750,000 annually. Mr. Wishart's strong diversified leadership experience in both financial and operational roles is unique and he is a proven initiator and confident leader with a track record of successful accomplishments working closely with Boards of Directors and Senior Management.
About GateKeeper USA, Inc.
GateKeeper USA, located in Gaithersburg, Maryland, is engaged in the maritime container industry as it relates to container security and protection from potential terrorist attacks. The initial focus of the company is the deployment of a proprietary shipping container security device known as the GateKeeper Container Automated Monitoring System (CAMS).
The Company will employ proprietary detection and identification technologies. The technologies to be utilized by the Company provide rapid, automatic and specific real-time analysis, identification and quantification of the chemical, biological and radio active compounds whether in liquid, solid or gaseous states.
[tags]CEO James W Wishart, pink sheets LSPS, maritime container security device, Container Automated Monitoring System[/tags]