CHICAGO, Ill. — iExplore (iExplore.com) announced today their list of Top Ten Hiking and Trekking Vacation Spots Worldwide as determined by their Adventure Travel Consultants. At #1: Annapurna Circuit, Nepal — The 186.5 mile, three week Annapurna circuit gets you up close to some of the highest mountains in the Himalayas, and is considered the best hike in the world by many. At #2: Appalachian Trail — Each year tens of thousands of people set off to complete the entire length of this 2,175 mile trail that takes months to complete, while thousands of others hike just sections of the trail.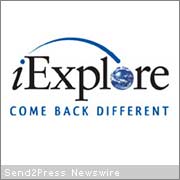 The rest of the top ten:
3. Santa Cruz Trek, Peru
It's a 4-day, 31 mile hike through wildflower filled meadows, turquoise lakes, and near the highest snow capped peaks outside the Himalayas.
4. Kilimanjaro National Park, Tanzania
Apart from the snow-capped cone of Mount Kilimanjaro, the various routes take you through gorges and past Africa's amazing wildlife.
5. Tour de Mont Blanc, France/Italy/Switzerland
The 106 mile trail near the highest peak in the Alps (15,780 feet) traverses three borders.
6. West Coast Trail, British Columbia
A 75 mile coastal hike on Vancouver Island's pristine wilderness includes views of caves, cliffs, coves, beaches, shipwrecks, and much more.
7. Overland Track, Australia
The 80km (50 mile) Overland Track in Cradle Mountain and Lake St. Clair National Park in Tasmania is often considered Australia's best.
8. Torres del Paine, Chile
Torres del Paine National Park in the far south of Chile is home to two legendary trails: The Loop and the W.
9. John Muir Trail, California
Named after the founder of the Sierra Club, you will traverse Yosemite, Kings Canyon, and Sequoia National Parks. Ansel Adams would be jealous.
10. Camino de Santiago, Spain
Hiking this 460 mile pilgrimage footpath, a thousand year old tradition, leads to cathedral of Santiago de Compostela in Galicia, the third holiest site in Christianity.
iExplore offers guided tours to most of the above destinations. Call 1-800-IEXPLORE (1-800-439-7567) for details and pricing.
Founded in 1999, iExplore (http://www.iExplore.com) is the leading online resource for adventure and experiential travel, serving over 1,300,000 visitors per month at its website.
[tags]George Deeb, Top Ten Hiking and Trekking Vacations, Adventure Travel Consultants[/tags]