CHICAGO, Ill. — iExplore, Inc. announced this week their list of Top Ten World Safari Experiences as determined by the iExplore team of world travel experts. Number 1: Kruger National Park, South Africa. This is the place to see the Big Five – elephant, white rhino, buffalo, lion and leopard. It is one of the most spectacular and diverse conservation areas on the planet with over 147 different species of mammals, 500 species of birds, 100 species of reptiles, 49 species of African indigenous fish, 34 types of amphibians and 300 different species of trees. Now that's wildlife.
2. Mountain gorillas, Uganda
There are only about 650 wild mountain gorillas left in the world and the place to see and do your Dian Fossey best is in Uganda. You can actually go gorilla tracking in two national parks on the border of Rwanda at Virunga Range or in Bwindi, a thick rainforest.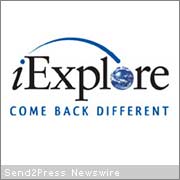 3. Wildebeest migration, Serengeti
You simply can't miss this if you're coming to Africa. This annual wildlife migration of over 1.4 million wildebeest and 200,000 zebra and gazelle, relentlessly tracked by Africa's great predators, is a photographers and naturalists dream.
4. Emperor Penguins, Snow Hill Island
Rug up to make 4000 bow tied friends on this remote island. Emperor Penguins are some of the hardest birds in the world to see. They breed in winter and the single egg is incubated by the male when night lasts for months and temperatures reach minus 60 degrees Celsius.
5. Giant Grizzlies, Knight Fjord, British Colombia
The giant grizzly is king here and can be seen all year round. In spring they hang out by the water's edge, in summer they mate and spar on the beach and in autumn they feed on salmon in the Glendale River.
6. Sailing safari, Greenland
Sail into the superb fjords of East Greenland to see the aurora borealis and the wildlife. Polar bears, eight species of whales, two million seals, reindeer, musk oxen, Arctic hares and Arctic wolves are just some of the species living here.
7. Musk-Ox Safari, Greenland
Take a husky team or snowmobile from the town of Kangerlussuaq, located at the head of the country's third longest fjord. Cut through this beautiful region to look for the noble musk ox and with a bit of luck some reindeer and Arctic foxes too. It's extremely cold here but a good place to see the northern lights.
8. Kakadu National Park
Don't take any inspiration from Steve Irwin; never smile at a crocodile, particularly these saltwater menaces in the superb wilderness of Kakadu. Take a boat safari and marvel at the bird life and wetlands from the safety outside the water.
9. Panda safaris, China
This protected species live in Sichuan Province and just over the boundary line in Gansu and Shaanxi Provinces. In the reserves of Foping and Changqing you can track and view wild pandas in their natural habitat and enjoy the high altitude primary forest.
10. Royal Chitwan National Park, Nepal
The steamy Inner Terai of central Nepal was once one of the most famous big game hunting areas in Asia. Fortunately the lead shooting has finished and it now provides protection to the one-horned rhinoceros, tiger, leopard, sloth bear and the gaur (wild bison) and over 400 species of birds.
iExplore offers guided tours to most of the above destinations. Call 1-800-IEXPLORE (1-800-439-7567) or 1-312-492-9443 for details and pricing.
Founded in 1999, iExplore (www.iExplore.com) is the leading online resource for adventure and experiential travel, serving over 1,300,000 visitors per month at its website. iExplore's website is a one-stop planning resource for adventure travelers, with a deep offering of related tours, content, photos and a community of like-minded travelers. iExplore offers hundreds of tours that visit the farthest corners of the earth, particularly the man-made and natural wonders of the world.
iExplore has been named the "Best Adventure Travel Website" by Forbes Magazine, Travel & Leisure Magazine, Yahoo, Google and Time Magazine, and powers adventure trips for many leading travel sites including Expedia, Travelocity, Frommers, Lonely Planet, Travel Channel and Concierge.com. iExplore is a wholly-owned division of TUI Travel PLC (www.tuitravelplc.com), a US$25BN international leisure travel company based in the U.K.
[tags]iExplore adventure travel, George Deeb, world travel experts, TUI Travel PLC, experiential travelers[/tags]