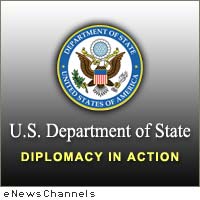 WASHINGTON, D.C. /eNewsChannels/ — According to the U.S. Department of State, The United States will participate in the following upcoming multilateral discussions on combating transnational criminal threats and corruption. From November 10-13, 2010, the United States will attend the 14th International Anticorruption Conference (IACC) in Bangkok, Thailand. The IACC is the premier forum that brings together heads of state, civil society, the private sector and other stakeholders to tackle the sophisticated challenges posed by corruption.
The United States National Security Strategy underscores transnational crime and its threat to governance. Further, President Obama has said "…[transnational crime] can undermine stability and security, fuel violence and corruption, weaken the rule of law, and subvert legitimate economies." In advancing this important national interest, Secretary of State Hillary Clinton will deliver a video message at the 14th IACC emphasizing the State Department's commitment to fighting corruption and promoting good governance as critical elements of economic growth, development, and democracy.
At the G20 Leaders' Summit in Seoul, November 11-12, President Obama will join other G20 Leaders in endorsing an Action Plan on Anti-Corruption, which details a set of comprehensive and concrete steps to enhance cooperation in the fight against corruption and illicit trade.
The United States and New Zealand are partnering in the Pacific to combat transnational crime and support sustainable development. The U.S. State Department is working with the Ministry of Foreign Affairs and Trade and New Zealand Police and Customs to disrupt and dismantle transnational criminal threats across the Pacific, particularly illicit transnational networks. New Zealand and the United States will co-host a symposium focused on these issues November 16-18 in Christchurch.
Participants will explore best practices in inter-agency cooperation at the national, regional and international levels within the context of the growing threat posed by the illicit trade across the Pacific and ways for strengthening cooperation to combat transnational organized crime organizations and illicit networks that span East Asia, the Pacific, and Latin America.