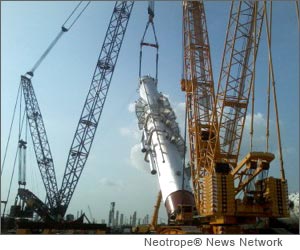 HOUSTON, Texas /eNewsChannels/ — Along the Gulf Coast signs of an energy boom seem evident – from the recent $3 billion addition to Valero's Port Arthur refinery to the massive $7 billion Motiva expansion still underway; more new construction, upgrades and heavy maintenance is on the books as oil and energy giants along the Gulf crescent are beefing up their plants and contemplating new ones to meet the future, according to Iron Workers District Council of Texas and the Mid-South States.
Specialty big lift crane and rigging companies Deep South Crane and Rigging (www.deepsouthcrane.com) and Maxim Crane Works (www.maximcrane.com) will play a critical role in the new construction, expansions, upgrades and maintenance ahead for the industrial behemoths that populate the Gulf Coast. These specialists are well-prepared for the rising surge in U.S. energy, oil and gas production, as signatory contractors Maxim and Deep South rely on union Iron Workers and operators to man up the critical big lifts that are their unsurpassed specialty serving the multi-billion dollar industrial plants and refineries edging along the Gulf from Texas to Florida.
Prime resources for their clients, some of the biggest energy, oil and gas companies in the world, Deep South and Maxim supply the highly specialized cranes, transport equipment and the well-trained, credentialed labor required to execute heavy and critical path lifts intrinsic in the construction, operation and maintenance of industrial plants and modern refineries. Theirs is an industry specialty not just any company can drop in and do.
Maxim Crane and Deep South are long-standing Gulf Coast signatory contractors with the Iron Workers Union (www.ironworkerstxmidsouth.com), a relationship both companies consider key to their success in securing and executing the demanding work they do for world-leading oil and gas companies Valero, BP, Exxon/Mobil, Shell and others. As Iron Worker signatories Deep South and Maxim have virtually unrivaled manpower resources that allow them to take on bigger challenges and execute even the biggest jobs.
"Being signatory gives us the capability to go out and compete for big projects," says Bruce Smiley, Senior Account Manager for Maxim Crane Works in Texas City. "We can do turnarounds turnkey, supplying the cranes, Iron Worker riggers and crane operators to do the job."
Craig Stanford, Field Operations Manager in Houston for Deep South, whose company did the big lifts for the monumental Motiva refinery expansion, says the Texas and Mid-South Iron Worker locals he routinely works with on the Gulf Coast strive to give his company what it needs to compete successfully. "The Iron Workers Union here has really worked hard to figure out what our needs are and what we'll need in order to satisfy our client requirements. They go well beyond what would reasonably be expected to make sure that their folks possess the skills and credentials we have to have in order to put these guys to work on major projects. They are very professional – very well-managed. It is a real client/provider relationship – not an adversarial one."
The Iron Workers Union constantly trains up and credentials their men as technology and requirements evolve in their areas of specialty. "Whenever a new test, or certification comes along whether it's required by the owners, OSHA or other agencies – owners, contractors and companies like Deep South, Riggers International and Maxim know that the Iron Workers will jump to the forefront to make sure our guys are trained to meet that particular need," says Richard Dee, Business Manager for the Iron Workers local 135 in Galveston.
"Safety is critical in the work we do – everything has to be perfect down to the smallest detail," says Larry Savell, Business Manager for Iron Workers local 469 in Mississippi where some 350 union Iron Workers recently completed work on the nation's first nuclear plant uprate – a massive upgrade at Grand Gulf Nuclear Plant which generates the largest nuclear energy output in the U.S. "Nuclear equipment is immensely heavy, solid and awkward to move," says Savell. "The Grand Gulf contractors called the union Iron Workers in because they know our men have the training, documented experience and certifications needed. If we say a man can do a job – he can do it. In the nuclear energy industry you cannot hire people off the street."
Ed Vargocko, Business Manager for the Iron Workers local 84 in Houston agrees. "In big lifts and critical path lifts there is no room for error. Doing it right is mandatory. That's what we do."
About IMPACT:
IMPACT (www.impact-net.org) is a joint labor-management, non-profit trust formed under Section 302(c) (9) of Labor-Management Relations (Taft-Hartley) Act, serving to unite union ironworkers and signatory contractors in partnerships to develop jobs in the United States and Canada. IMPACT programs help foster workplace excellence through customized project tracking, management training, and safety insurance.
About the Iron Workers Union/District Council of Texas and Mid-South States:
The Iron Workers District Council of Texas and Mid-South States (www.ironworkerstxmidsouth.com) represents some 5,000 skilled union ironworkers who make up the area covered by IMPACT Region VI. These men and women help form the backbone of what the Iron Workers Union, its Signatory Contractor Associations and IMPACT are doing to reinforce the construction industry's future.
Copyright © 2012 Neotrope® News Network – all rights reserved.