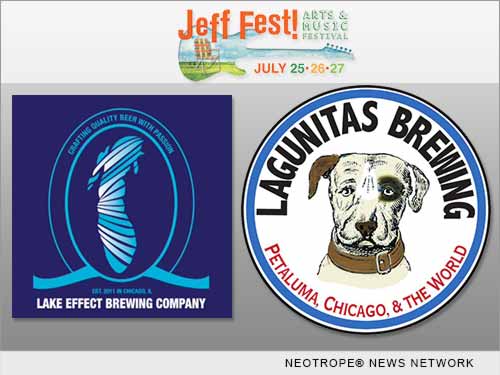 CHICAGO, Ill. /eNewsChannels/ — NEWS: Two Chicago neighborhood breweries are among the key sponsors of this year's Jeff Fest Arts and Music Festival. Lagunitas Brewing and Lake Effect Brewing are showing their support for Chicago and its communities by participating in the festival in Jefferson Park, from July 25-27, 2014.
Lagunitas recently opened its second Brewery and TapRoom outside of California, and it's in Chicago. "We are thrilled to partner up with our Chicago neighbors and to have the opportunity to support community events such as Jeff Fest," said Karen Hamilton from Lagunitas. "And while our beer has been in Chicago for the last nine years, it's great to be able to now be a part of the exciting local beer scene."
Craft beer consumption is up, and local breweries and bars are quickly becoming popular places to visit and have been very supportive of local events. Jeff Fest is setting itself apart by serving local brews and engaging with the local breweries to show how they are part of the community.
Lake Effect Brewing Company was founded by Clint Bautz and Lynn Ford and is located at 4727 W. Montrose, Chicago, truly local. "Providing great, fresh beer is what we specialize in and our customers on the NW side are our biggest supporters. We see ourselves as the local brewery and are honored to be serving our craft at Jeff Fest," said Bautz, CEO and Co-Founder.
Jeff Fest is presented by 45th Ward Alderman Arena, Jefferson Park Chamber of Commerce in partnership with the Jefferson Park Advisory Council and the Chicago Park District along with media partner 93.1 WXRT Chicago.
What better to go with a cold beer than some ribs from Gale Street Inn? As a Jefferson Park business and proud Jeff Fest sponsor, Gale Street Inn's popular food will be among the taste offerings at the Fest. In addition to key sponsor Gale Street Inn, there will be food offerings from:
* Bob Cha Food Truck
* Caponies Food Truck
* Chicago Cupcake Food Truck
* Creative Cooking
* Fischmans Wagyu Wagon.
There will be something for everyone with food, beverages, entertainment, art, and fun for the kids. Vegetarian options will be available.
Jefferson Memorial Park is located at 4822 N. Long Avenue, just west of Milwaukee Avenue. Fest-goers are encouraged to take public transportation, as the Jefferson Park Metra and CTA Blue Line transportation hub is just a block from the festival grounds. Plenty of bike racks also will be available.
The event is chaired by Jefferson Park Chamber of Commerce Board members who volunteer their time for this community event. Proceeds from the festival support local student scholarships and Jefferson Park business-focused events. To date, 25 scholarships have been awarded to local students.
Road closures: Linder Avenue will be blocked off between Higgins and Lawrence Avenue for the three-day festivities.
The fee for admission is $7 per person, or $5 before 5 o'clock. Children ages 12 and under are Free. Coolers and liquor are not permitted. Festival hours are Friday, July 25 from 6 p.m. to 11 p.m., Saturday, July 26 from Noon to 11 p.m., and Sunday, July 27 from Noon to 10 p.m. Lawn chairs welcome.
For more information, go to http://JeffFest.org/ .
Be sure you are the first to hear of announcements and plans for Jeff Fest and follow @JeffFestChicago on Twitter and at Jeff Fest Arts and Music Festival on Facebook: https://www.facebook.com/pages/Jeff-Fest-Arts-Music-Festival/96599731822 .
This version of news story is Copr. © 2014 eNewsChannels™ (www.enewschannels.com) and the Neotrope® News Network – all commercial and reprint rights reserved. Unauthorized reproduction in whole or in part without express permission is prohibited.