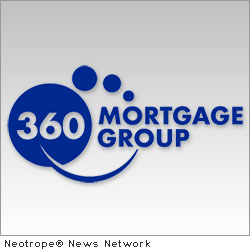 AUSTIN, Texas /eNewsChannels/ — 360 Mortgage Group, a privately owned wholesale mortgage bank, is pleased to expand its presence in Michigan and the Midwest region with the addition of Jeffrey Eason as an account executive. Eason has worked for more than 10 years in the mortgage industry and has demonstrated exceptional experience as a sales and account manager with the ability to create excellent sales growth and produce customer satisfaction within program and project development operations.
Prior to joining 360 Mortgage Group on March 14th, Eason worked as a senior account executive for ClearPoint Funding; an account executive for TopFlite Financial, Bank of America and Wachovia Bank (now Wells Fargo); and a new business and lead generation executive for Great Lakes Finance. Eason earned a degree in business from Oakland Community College and Macomb Community College.
"I had three job offers, but I decided to go with 360 Mortgage Group," said Eason. "This decision was based on a webinar that I watched about the technology and simplicity of 360's platform. Because 360's system is integrated with Calyx, it is much simpler and faster to use, which means less time and aggravation for brokers."
"Jeff was a great employee," said Jodie Sedestrum, sales manager at Wells Fargo. "He is a go-getter who is very good with all of his clients and always makes sure that they are taken care of."
About 360 Mortgage Group, LLC:
Established in 2007, 360 Mortgage Group LLC – www.360MTG.com – is a privately owned mortgage bank that has successfully utilized its high-technology platform to provide better communication and customer service to business partners. An approved Fannie Mae seller/servicer, 360 Mortgage Group is headquartered in Austin, Texas and services more than 25 states across the United States. For more information, contact 360 Mortgage Group by calling (866) 418-2997.
Copyright © 2012 Neotrope® News Network – all rights reserved.