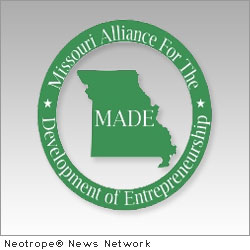 MARSHALL, Mo. /eNewsChannels/ — The Missouri Alliance for the Development of Entrepreneurship announced the launch of its third MADE In Missouri State Entrepreneurship Competition. The competition encourages new and aspiring businesses through a competitive, educational and technical assistance business development process with winners receiving grants to help grow their business.
The Competition provides new and potential business owners in Missouri an opportunity to compete with other new businesses throughout the state. The competition is designed to support future Missouri businesses and communities by cultivating reliable businesses, creating jobs, and stimulating the state's economic future.
Why participate in the MADE Competition? According to one of the winners from 2011, "You guys were very accommodating, the detail that was required for the application allowed me to solidify my thoughts and ideas of my business. Also the rounds of feedback made sure I got general, detailed and then specific advice and thoughtful consideration on the development of my business…. This competition gives you a chance for a professional to review and better your idea and then you also have the chance to take home something for yourself as well. It's important for hopefuls that take business seriously to apply because this is like free business mentorship, rare to find."
Participants start by answering a questionnaire about their business ideas, and are provided with tips and suggestions on how to make their businesses better in the first round. Those who advance to the final round will develop business plans and provide brief business pitches to judges in a simulated investor scenario. Finalists present their finished business plans, products, and services at the Missouri State Fair on August 16, 2012 in Sedalia, Missouri.
Grants will be awarded as startup or operating capital to winners at the State Fair. Judging at all levels will take place behind closed doors, and all information is regarded as confidential and proprietary and will not be shared with outside parties.
Registration is open to any potential business owner or current business owner in Missouri that has been in operation three years or less. There are Youth and Open categories for participation, and people considering going into business for the first time are welcomed. Participants do not have to be in business yet to compete.
Application material can be accessed online at http://www.mvcaa.net/index.cfm?Page=MADE with a first round submission deadline of May 31, 2012. Submissions by mail must be postmarked by May 31st, and those by email must be sent by 5:00 p.m. on May 31st.
For more information and to register, go online to http://www.mvcaa.net/index.cfm?Page=MADE
or contact:
Cheryl Zimny
Community Development Manager
Missouri Valley Community Action Agency
1415 S. Odell
Marshall, MO 65340
Phone: 660-886-7476, ext. 816
Fax: 660-831-5039
Made.mvcaa@gmail.com.
About MADE:
The Missouri Alliance for the Development of Entrepreneurship (MADE) is a coalition of a diverse group of organizations, technical assistance professionals, university, federal and state departments, entrepreneurs and other professionals. The guiding purpose behind its creation was the integration of a coalition dedicated to cultivating entrepreneurship in Missouri by assisting entrepreneurs in creating, financing and managing their new businesses and effecting an environment which supports them. The Alliance is facilitated by Missouri Valley Community Action Agency of Marshall, Missouri.
This project is funded 100 percent at $15,000 with federal funds received from the U.S. Department of Health and Human Services (HHS) provided by the Missouri Department of Social Services, Family Support Division.
Copyright © 2012 Neotrope® News Network – all rights reserved.