PENSACOLA, Fla. — So, you want to be a P.I.? Florida Private Investigator, John Krause, has re-released "The Private Investigator's Guide," (ISBN: 0-615-13411-4, printed version; and ISBN: 0-615-12404-6; CD-ROM version) previously published in 1997. "The Private Investigator's Guide" is the most comprehensive guide on the market; it teaches the novice P.I. the tricks of the trade and provides basic information for business start-up.
Topics include: report writing, ruses, where to locate information, how to stay out of trouble, recorded statement and witness interviews, tips for identifying what makes a good investigator, needed forms for operation, and more.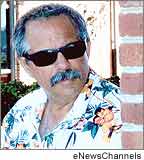 "The Private Investigator's Guide" has been discussed on television and talked about on radio throughout the south, northeast, northwest and on the Internet; it is an essential tool for any agency or intern.
The book is now back in print and also available on CD-ROM; it includes a free demo version of ScenePD – the software that professionals use to recreate accident and crime scenes with just a few clicks of the mouse.
Krause has been a private investigator for 20 years and has a celebrated career that has taken his book to a number two best seller in the southeast in the legal self-help category with major book retailer, Books-A-Million.
Krause has investigated a broad variety of cases ranging from child custody to criminal defense and has been involved in some very high-profile cases.
Krause wrote the "Private Investigator's Guide" to educate interested people and to provide basic direction about a business that is difficult to break into.
"Most agencies have minimal hands-on training with interns due to case deadlines," Krause said. "This practical, how-to guide is a necessary tool for interns who want to succeed, and seasoned investigators who may need a refresher course."
"The Private Investigator's Guide" provides the practical foundation for everyday applications in the area of training private investigators; it is currently available at Amazon.com, The Spycorner.net, Supercircuits.com, scottsspytek.com and eBay.com.
For more information, visit: http://www.pibook.info; or call 850-291-8540.
[tags]Florida Private Investigator, John Krause, Private Investigators Guide[/tags]