Home
State: North Carolina
North Carolina Business News, Technology News & Entertainment (U.S.)
NEWS: (FLAT ROCK, N.C.) Loretta Shelton has been named executive director of the newly launched Four Seasons Compassion for Life Foundation, a non-profit organization dedicated to the philanthropic support of the Four Seasons Compassion for Life mission of 'Co-Creating The Care Experience.'
NEWS: (FLAT ROCK, N.C.) Four Seasons Compassion for Life, western North Carolina's leading, community-based hospice and palliative care provider, announces the launch of the Four Seasons for Life Foundation. The philanthropic non-profit is charged with securing the resources to maintain quality care during serious, chronic, or life-limiting illness in Henderson and Buncombe counties, and across the region.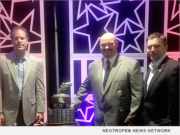 NEWS: (ROCKY MOUNT, N.C.) It is a great privilege for Eagle Transport Corporation to announce Darryl Nowell as the 'Professional Tank Truck Driver of the Year - Grand Champion' for 2015-2016. The prestigious award was announced on April 25, 2016 at the National Tank Truck Carrier's Annual Conference in San Diego, Calif. This honor exemplifies Darryl's incomparable trucking career.
NEWS: (ASHEVILLE, N.C.) Grout Genie is a newly-launched cleaning product that makes cleaning tile and grout a cinch. And, these almost magical pads are unlike any other mopping pad on the market. Two rows of polypropylene bristles on the patent-pending microfiber Grout Genie(R) scrubbing pad reach into the grout channel to scour out dirt while the super-absorbent microfiber Genie pads mop up the mess.
NEWS: (FLAT ROCK, N.C.) Non-profit Four Seasons Compassion for Life announces the promotion of Ashley Albers, D.O., to the position of hospice medical director. Albers holds a 2009 doctorate in osteopathic medicine from the A.T. Still University of Health Sciences, and a 2004 bachelor of science in chemistry and mathematics.
NEWS: (RALEIGH, N.C.) Capital Automotive Group (CAG) of North Carolina announced today the acquisition of Bobby Murray Chevrolet, 1820 Capital Blvd., Raleigh. The name will change to Capital Chevrolet. This brings to 13 the number of auto brands represented by Capital.
NEWS: (CHARLOTTE, N.C.) Tallahassee Dodge Chrysler Jeep Ram (DCJ) in Tallahassee, Florida. has awarded their advertising account to Sokal Media Group of North Carolina. Chuck Urban, who is a familiar face as spokesperson and dealer principal for the independently owned store, made the decision in February 2016.
NEWS: (MORRISVILLE, N.C.) Hill-Kelly Dodge Chrysler Jeep Ram in Pensacola, Florida recently announced that effective January 1, 2016 Sokal Media Group became the dealership's new agency of record. Founded in 1950, Hill-Kelly is one of the leading Dodge, Chrysler, Jeep and Ram dealers in Western Florida.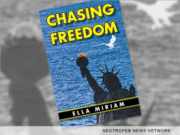 NEWS: (CHARLOTTE, N.C.) 'Chasing Freedom' (ISBN: 9780578164373) is a newly-released book authored by Ella Miriam that details her personal and compelling story from bondage to freedom. Born during the gruesome Nazi siege of Leningrad, Miriam's childhood and early adulthood was spent in the grim Soviet Union of Stalin, Khrushchev and Brezhnev.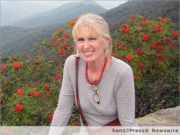 NEWS: Do you ever ask yourself, 'Why does this always happen to me?' Or do you simply chalk it off to fate? Yvonne Haarsma, owner of the Asheville Astrolodge, explains why coincidences do not exist and ascertains that everything happens for a reason, including problems people encounter. A karmic astrologer, she can see the lessons which are often interpreted as problems, while studying someone's chart.