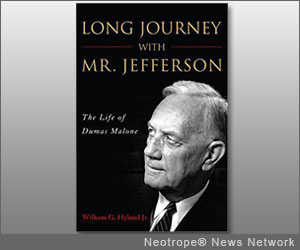 TAMPA, Fla. /eNewsChannels/ — The magisterial "collaboration" over half a lifetime between historian Dumas Malone and his subject, Thomas Jefferson, is the basis for William G. Hyland Jr.'s compelling book, "Long Journey with Mr. Jefferson" (ISBN: 9781612341972; Potomac Books). Malone, the courtly and genteel historian from Mississippi, spent 38 years researching and writing the definitive biography of the man who "invented the United States of America."
Hyland provides a surprising portrait of the man many consider America's greatest historian, recording in detail Malone's struggle to finish his towering six-volume work on Jefferson through excruciating pain and then blindness at the age of eighty-three. Hyland includes Malone's previously unpublished correspondence with such notables as John F. Kennedy, Harry S. Truman, George H. W. Bush, Felix Frankfurter, and Fawn Brodie. Readers are treated to an exclusive look at private family documents and Malone's unfinished memoir, which reflects on history, social commentary, and his life's accomplishments.
Offering much more than most biographies, this book imparts extensive insights into Malone's earlier years in Mississippi and Georgia, and how they shaped his character. Through interviews with his intimates, family members, rivals, and subordinates, Hyland generates a true portrait of the man behind the intellect and the myth.
About The Author:
William G. Hyland Jr., a native of Virginia, is the author of "In Defense of Thomas Jefferson" (2009), nominated for the Virginia Literary Award, and a professor at Stetson University College of Law. He is a member of the Virginia and New York Historical Societies, serves on the board of directors of the Thomas Jefferson Heritage Society, and has lectured at the National Archives and for the Colonial Williamsburg Foundation. He lives in Tampa, Florida.
Advance Praise for Long Journey with Mr. Jefferson:
"William Hyland has captured Dumas Malone as a warm and genial family man, a world-renowned scholar, and the world's greatest Jeffersonian authority and author. His description of his encounters with some of the brightest educators, political leaders, and journalists of his day is fascinating." – W. McKenzie Wallenborn, president, Thomas Jefferson Heritage Society.
Potomac Books, Inc., 22841 Quicksilver Drive, Dulles, VA 20166; www.potomacbooksinc.com .
Copyright © 2013 Neotrope® News Network – all rights reserved.