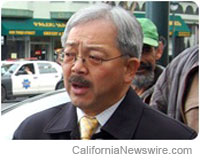 SAN FRANCISCO, Calif. /California Newswire/ — S.F. Mayor Edwin M. Lee today announced his appointment of Allen A. Nance as San Francisco's Juvenile Probation Department (JPD) Chief Probation Officer to succeed retiring Chief Probation Officer William P. Siffermann.
Under the leadership of the Chief Probation Officer, JPD utilizes detention alternatives and principles of balanced and restorative justice as it administers programs for the assessment, education, treatment, appropriate rehabilitation and effective supervision of youth.
"With commitment and focus on reducing juvenile crime and recidivism rates and offering our young people with hope for a better future, I know Allen Nance will continue the leadership of Chief Siffermann to ensure safer communities and advance the Department's vision of juvenile justice," said Mayor Lee. "I applaud Chief Siffermann for his outstanding work and thank him for his service to the youth and families of our City."
As the Assistant Chief Probation Officer for JPD, Allen Nance has been instrumental in the implementation of various evidence-based practices related to effective community corrections intervention, and has led the Department in the implementation of an actuarial assessment of criminal risk for adult offenders. He has guided JPD in the implementation of a state of the art drug-testing laboratory to assist probation officers in detecting illegal substance use among juvenile and adult offenders. As an administrator, Nance has developed and reinforced protocols and policy designed to build collaborative partnerships with stakeholders in the criminal justice system.
Prior to his appointment as Assistant Chief Probation Officer, Nance served as the Deputy Director for the Adult Probation Services Division of the 18th Judicial Circuit Court in DuPage County, Illinois from 2000 to 2005. Nance began his probation career in 1989 with the Juvenile Probation Department of Cook County where he served in several line officer and administrative positions including as a Deputy Chief Probation Officer, assisting the Department as Training Administrator and Director of Management Information Systems. Nance has served as a consultant to juvenile justice and social service agencies in a number of states across the country.
Nance holds a Bachelor's degree in Psychology from the University of Illinois at Chicago. Bilingual in Spanish and English, he has been a strong advocate for improved language assess to City services.
---
Copyright © 2013 California Newswire. This content is copyrighted under U.S. and international law and may only be used for non-commercial purposes by news aggregators or under license of the Neotrope® News Network (www.neotrope.net). .

The version of above news story by Christopher Simmons, SF Mayor Lee Appoints Allen Nanceto Lead San Francisco's Juvenile Probation Department was syndicated from California Newswire.