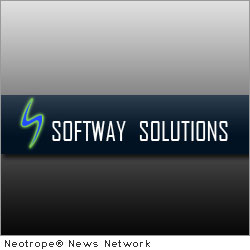 HOUSTON, Texas /eNewsChannels/ — Softway Solutions is a company that deals directly with the next most important frontier of business: the web. Having been in operation since 2003, Softway Solutions now employs more than 110 individuals throughout the globe. Its far-reaching network allows the company to function at its peak potential.
Specializing in web design, web application development and programming, Internet marketing, Android and iPhone application development, Flash design, IT solutions and back-end development and integration, Softway Solutions is deeply rooted in the information technology industry.
Recently, Softway Solutions hosted a group of interested students from the LoneStar College System, allowing them to visit for the day. Each of the visitors was enrolled in information technologies at the college; their interests were geared towards their future potential and careers they could eventually obtain.
At the beginning of their visit, the students were told about the history of Softway Solutions. Incorporated in Texas, the company has clients in various fields including, but not limited to, information technology, oil and gas, health care, graphic design, interior design, architecture and advertising.
Throughout the day, the students were allowed to ask questions of department heads from all over the organization. As directors from the multimedia, game development, mobile application development and website development departments explained their daily work regimens, the visitors were allowed to interject, inquiring about the projects these individuals work on and the types of challenges they encounter.
Some of the questions that arose involved the ideal career track for students to follow so that they could find themselves in positions like the directors at Softway Solutions. Each director discussed the development they put into themselves as professionals so that the students could get a better idea of how the experiences and choices of the directors have shaped them and their careers.
After the major presentation, the visitors were given a thorough tour of the facilities where Softway Solutions operates. The amount of insight that the students gained from this, combined with the informational presentation, will have some long-term effects on their career choices.
About Softway Solutions:
Softway Solutions has been in the business of Houston website design and management for more than eight years. Over time, the business has made the logical leap forward into the realms of Internet marketing, web application development and mobile development solutions. Softway Solutions is bridging the gap between tech-savvy and marketing expertise in order to offer their clients full-service solution management.
More information: http://softwaysolutions.com .
Copyright © 2012 Neotrope® News Network – all rights reserved.