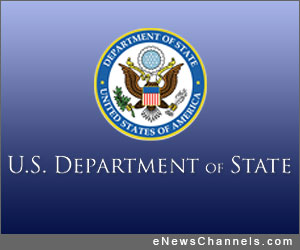 WASHINGTON, D.C. /eNewsChannels/ — As part of an effort to continue to attract smart, dynamic, capable people into the Foreign Service, the Department of State is releasing a new one-minute trailer and an accompanying short video that showcases the faces and stories of the amazing men and women who have helped make the world a better place through a career in the Foreign Service.
The video is meant to inspire and promote participation in American diplomacy through joining the Foreign Service. Through compelling stories and powerful imagery, the film aims to educate and engage Americans on the incredible career opportunities available in the Foreign Service.
As Secretary Clinton says, "The challenges of the 21st century offer something for everyone in the Foreign Service and they also demand a wide range of skills and experience…we need you now."
The Foreign Service represents the United States around the world and provides the opportunity to experience cultures, customs and people of different nations in a career truly unlike any other. In this constantly changing world, we want to continue to recruit adaptable, resourceful, intelligent, and innovative strategic-thinkers, from diverse educational, geographic and cultural backgrounds.
You can view the full video here (http://youtu.be/Zdh2oZ6NSgY). For more information on joining the Foreign Service and careers at the U.S. Department of State please visit http://careers.state.gov.
VIDEO