WASHINGTON, D.C. /eNewsChannels/ — Using sports as a means to build stronger people-to-people connections and empower young people worldwide, the U.S. Department of State's Bureau of Educational and Cultural Affairs and the National Basketball Association (NBA) announced today that NBA legends Bo Outlaw and Dee Brown and Women's National Basketball Association (WNBA) legends Edna Campbell and Tamika Raymond will travel to Africa as sports envoys.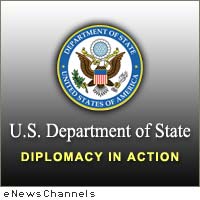 Sports diplomacy builds on Secretary Clinton's vision of "smart power" diplomacy. It embraces the use of a full range of diplomatic tools, including sports, to bring people together for greater understanding.
From August 25-31, Outlaw and Campbell will be in Brazzaville, Congo, where they will lead basketball clinics on the court and teambuilding exercises for young people ages 12-25. The legends will meet with more than 100 Congolese youth who participate in a U.S. Embassy English-speaking initiative, which provides these young people an opportunity to learn and practice their English on a weekly basis.
Outlaw and Campbell also will lead a community service project, where they will help renovate a local orphanage called Sainte Claire. They will also participate in a water distribution program led by the Ebina Foundation at Moukoundo Junior High School, located in a neighborhood whose people do not have regular access to clean drinking water.
Sports envoys Outlaw and Campbell will take part in a press conference slated for 4:00 p.m. (local time) on Tuesday, August 30. Media interested in covering this press availability should contact Embassy Brazzaville's Public Affairs Officer Wesley Jeffers at +242 06 612 2115.
NBA legend Dee Brown and former WNBA standout Tamika Raymond will travel to Dar es Salaam, Tanzania from September 5 – 9, where they will meet with primary and secondary school students and lead basketball clinics and teambuilding exercises with Tanzanian youth.
On September 5, Brown and Raymond are scheduled to participate in a press conference. Interested media should contact Embassy Dar es Salaam's Public Affairs Officer Roberto Quiroz at +255-22-229-4158 for more details.
Sports Envoys are current and retired professional athletes and coaches that travel overseas to conduct drills and team building activities, as well as engage youth in a dialogue on the importance of education, positive health practices and respect for diversity. Previous sports envoys include: Willie Green of the New Orleans Hornets; Miami Heat Head Coach Erik Spoelstra; former NBA player and Olympic gold medalist Sam Perkins; NBA Hall of Famer George "The Iceman" Gervin, and WNBA basketball greats Cynthia Cooper and Sue Wicks. In partnership with SportsUnited, 42 NBA and WNBA players and coaches have visited 19 different countries since 2004, where they have conducted basketball clinics for thousands of young boys, girls and coaches.
SportsUnited is the Bureau of Educational and Cultural Affairs' premier sports exchange program at the U.S. Department of State. Athletes and coaches from a range of sports are chosen to conduct clinics, visit schools, and engage with youth overseas in a dialogue on the importance of an education, positive health practices, and respect for diversity. Since 2003, SportsUnited has brought more than 600 athletes from 44 countries to the U.S. to participate in Sport Visitor programs. Since 2005, SportsUnited has sent more than 100 U.S. athletes to 40 countries to participate in Sport Envoy programs.