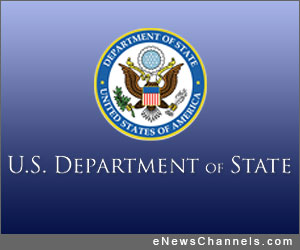 WASHINGTON, D.C. /eNewsChannels/ — The U.S. Department of State has no higher priority than the safety and security of the estimated 65 million U.S. citizens who travel abroad annually. The most important way we do this is by providing U.S. travelers with the information they need to avoid problems in their travels. Today, the Department of State's Bureau of Consular Affairs launched the Smart Traveler Day campaign.
Smart Traveler Day is a campaign to encourage U.S. citizens to travel smart by learning about their destinations before they travel, and by staying connected when they are abroad by enrolling in the Smart Traveler Enrollment Program (STEP). On Smart Traveler Day, we also launched the new mobile version of STEP that allows travelers to enroll on the go from their mobile devices.
Smart travelers are safe. We encourage U.S. citizens to learn as much as possible about their destinations before they travel. The Department provides important Country Specific Information, Travel Alerts, Travel Warnings, and Emergency Information on travel.state.gov where travelers can also find contact information for consular sections at U.S. embassies and consulates around the world. Consular sections provide a full range of services to U.S. citizens, from routine services that include passport renewals and registering births of U.S. citizens abroad, to emergency services such as medical evacuations, assistance in natural disasters, arrests and deaths.
Smart travelers stay connected. The State Department's Smart Traveler Enrollment Program (STEP) keeps travelers up to date with important safety and security announcements. Enrolling also helps the Department provide critical assistance in emergencies. To make it easier than ever to stay connected, the Bureau of Consular Affairs recently released a mobile version of STEP that is accessible by travelers through their mobile devices. In the airport lounge, on a train, at a hotel: it is never too late to enroll in STEP and update travel plans to stay connected. The mobile version of STEP is also available through the popular SMART Traveler App, available through iTunes and the Android market.
As part of our efforts to engage U.S. citizen travelers about Smart Traveler Day and becoming safe and smart travelers, the Bureau of Consular Affairs will be conducting outreach to audiences that include students planning to travel abroad and lesbian, gay, bisexual, and transgender (LGBT) travelers, to discuss important issues they may confront when they travel. We have a dedicated website for student travelers, and we recently made available information for LGBT travelers on travel.state.gov. Travelers can also follow us on Twitter and become a fan of the Bureau of Consular Affairs on Facebook as well.
For more information about tips for traveling abroad, please visit us on travel.state.gov.