WASHINGTON, D.C. /eNewsChannels/ — A reorganization of the Department of State's arms control and nonproliferation functions will take effect today. Secretary of State Hillary Rodham Clinton approved this plan with the goal of improving and revitalizing the Department's efforts to enhance U.S. national security by effectively addressing global nuclear, chemical, biological, and conventional weapons threats.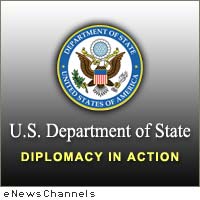 The current Bureau of Verification, Compliance, and Implementation (VCI) will become the Bureau of Arms Control, Verification and Compliance (AVC). The new bureau will lead the Department's work on arms control, verification and compliance, including related policy-making, negotiations and implementation. It also will lead the Department's efforts with respect to missile defense, Euro-Atlantic Security, and national security space policy. Finally, it will handle multilateral arms control and disarmament policy, including those issues that are considered by the Conference on Disarmament in Geneva and the United Nations General Assembly.
Verification and Compliance must be an organic part of our arms control policy, from the conceptualization of new agreements through their negotiation to their implementation. As President Obama underscored in Prague last year, "Rules must be binding. Violations must be punished. Words must mean something." By bringing the arms control, verification, and compliance missions together in one bureau and under one Assistant Secretary, the Department of State will ensure that verification and compliance regimes are built into arms control agreements from their inception and that compliance with such agreements is effectively verified.
The Bureau of International Security and Nonproliferation (ISN) will remain responsible for all efforts internationally to ensure the security, and prevent the proliferation and acquisition, of weapons of mass destruction and their delivery systems; the materials, equipment, and technology needed to build them; and other destabilizing conventional military capabilities.
Under Secretary of State for Arms Control and International Security Ellen Tauscher provides leadership and policy oversight to the AVC and ISN Bureaus, as well as the Bureau of Political-Military Affairs.