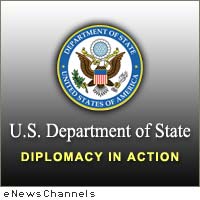 WASHINGTON, D.C. /eNewsChannels/ — Today, The United States announced an updated overview of the support for the Syrian people's aspirations for a Syrian-led political transition to a democratic, inclusive, and unified post-Assad Syria. The Assad regime has turned its weapons against its own people in a failing effort to perpetuate its rule. The United Nations estimates that more than 70,000 Syrians have been killed since the unrest and violence began over two years ago. Since the beginning of 2013, the number of Syrians seeking refuge in neighboring countries has sharply increased.
More than 1.4 million Syrians are now registered as refugees or are awaiting registration in neighboring countries while, inside Syria, an additional 6.8 million people are in need of humanitarian assistance.
The United States is providing nearly $510 million in humanitarian assistance to help those affected by the conflict. In addition, the United States has committed to providing $250 million in transition support to the Syrian Coalition and the opposition's Supreme Military Council. This transition assistance will help local opposition councils and civil society groups to provide essential services to their communities and extend the rule of law and enhance stability inside liberated areas of Syria. At President Obama's direction, we are broadening our non-lethal support to the Supreme Military Council beyond the food and medical kits they have already received.
Diplomatic Support
The United States is working with other nations and international organizations to support the Syrian people as they seek to build the peaceful and democratic future that the people of Syria deserve. The goals of U.S. diplomatic efforts are to further isolate the regime, both politically and through comprehensive sanctions; support the Syrian people's calls for the end of Assad's rule; and reinforce the Syrian Coalition's positive vision of a democratic, unified post-Assad Syria that rejects extremism and guarantees the rights, interests, and participation of all Syrians regardless of their religion or ethnicity.
The Geneva Communiqué agreed by the permanent members of the United Nations Security Council and key regional and multilateral partners on June 30, 2012 outlined a political solution to the Syria conflict through the establishment of a transitional governing body, including members of both the opposition and acceptable members of the current government, with full executive authority to frame the transition to an elected Syrian leadership. The Syrian Coalition, launched in November 2012 draws its legitimacy from a broad cross section of Syrians and has developed formal structures and plans for a democratic political transition that addresses the aspirations of the Syrian people, preserves the institutions of the state, and rejects violent extremism.
Humanitarian Assistance
The United States, along with the international community, is tirelessly working to provide humanitarian aid to all civilians affected by the brutal conflict in Syria and in the region. On May 9, Secretary Kerry announced that the United States is contributing an additional $100 million in humanitarian assistance, bringing total U.S. humanitarian assistance for those affected by the violence in Syria to nearly $510 million. U.S. assistance is providing emergency medical care and medical supplies, childhood immunizations, food, clean water, and relief supplies to those affected by the crisis.
Within Syria, U.S. humanitarian aid is reaching all 14 of the country's governorates on the basis of need and regardless of political affiliation. It is often not branded as U.S. assistance in order to ensure the safety of aid recipients and humanitarian aid providers as well as to guard against aid distribution being blocked while en route. The United States is committed to using all channels to reach affected populations throughout the country and is working through the United Nations, non-governmental organizations, and community-based partners, as well as with the opposition Coalition's Assistance Coordination Unit. The United States is also working closely with host governments in the region who have generously kept their borders open to refugees fleeing Syria. For more details on the United States humanitarian response to the Syria crisis and what U.S. humanitarian assistance is being provided, visit www.usaid.gov/crisis/syria.
Transition Assistance to the Syrian Opposition
The United States is acting in partnership with the international community to assist the Syrian Coalition as it works toward building a post-Assad Syria. After meeting with the Syrian Coalition and other governments in Istanbul on April 20, Secretary Kerry announced the commitment of an additional $123 million in transition assistance for the Syrian Coalition and Syrian Military Council, bringing the total to $250 million.
This transition assistance supports the Syrian Coalition's ability to both strengthen its operations and to help local councils and communities in liberated areas to procure and expand the delivery of basic goods and essential services. For example, in close collaboration with the Coalition's Assistance Coordination Unit (ACU), additional transition assistance is being provided to procure pre-identified equipment and supplies for prompt disbursement by the ACU to newly liberated communities. As announced on February 28, the United States is also delivering halal food rations and medical kits from U.S. government stocks to the Syrian Coalition, including the Supreme Military Council. In addition to expanding existing lines of support, the U.S. will consult with the Syrian Coalition and the Supreme Military Command to determine their most urgent transition assistance needs.
U.S. assistance includes training and equipment to build the capacity of a network of ethnically and religiously diverse civilian activists to link Syrian citizens with the Syrian Coalition and local coordinating councils. This support enhances the information security of Syrian activists, human rights organizations, and independent media outlets and empowers women leaders to play a more active role in transition planning.
Through a series of small grants, the Syrian Coalition is beginning to strengthen grass-roots administration — a foundation of democratic governance — as they provide basic services, including emergency power, sanitation, water and educational services. Some of this assistance is being directed to maintain public safety, extend the rule of law and enhance the provision of justice to improve local stability and prevent sectarian violence.
Over 5,000 major pieces of equipment, including communications and computer equipment, as well as generators and medical supplies, have been provided to support civilian Syrian opposition groups, civil society activists, and citizen journalists.
Support to civil society groups and local councils includes efforts to train, equip, and build the capacity of nearly 1,500 grassroots activists, including women and youth, from over 100 opposition councils and organizations from around the country; develop groups' abilities to mobilize citizens, share information, provide community services, and undertake civic functions; support interreligious and communal dialogues and encourage citizen participation in shaping the Syrian transition; and support human rights documentation and transitional justice efforts while laying the foundation for future accountability efforts.
Support to independent media includes assistance to community radio stations providing information for refugees about available services; training for networks of citizen journalists, bloggers, and cyber-activists to support their documentation, packaging, and dissemination of information on developments in Syria; and technical assistance and equipment to enhance the information and communications security of Syrian activists within Syria.
Assistance in support of the democratic transition includes efforts to link civilian opposition elements inside Syria with global supporters; technical assistance to emerging civil society leaders; and facilitating participation by the business community in the transition processes.
Additional Support for the Syrian People
The United States continues to engage Syrians directly, offering academic advising to young people hoping to study in the United States and opportunities to participate in academic exchanges and other direct outreach programs. The State Department is also working with a range of Syrian, American and international partners to protect Syria's rich cultural heritage and prevent the looting of archaeological sites, historic buildings, monuments and collections of objects. In addition, the Department is alerting customs officials in the United States and elsewhere to the potential smuggling of looted Syrian cultural property for introduction into international antiquities markets.
The State Department maintains an active dialogue to coordinate policy and assistance for Syria with the Syrian Coalition at its offices in Egypt, Turkey, and in Washington. We are also in close contact with many Americans, including Syrian-Americans, who have organized to provide assistance to Syrians in need.