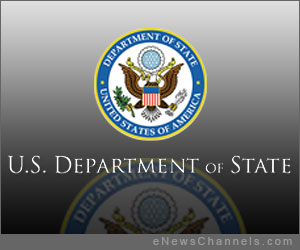 WASHINGTON, D.C. /eNewsChannels/ — According tor the State Department, U.S. policy makers and scientists are meeting with governments from around the world this week, on July 15-16, 2013, at an international conference in Bremerhaven, Germany, in an effort to advance significant new marine protection for the waters surrounding Antarctica. They will attempt to gain adoption of a proposal, developed jointly by the United States and New Zealand, that would establish the world's largest marine protected area in Antarctica's Ross Sea Region.
The joint U.S.-New Zealand proposal is being considered at a Special Meeting of the Commission for the Conservation of Antarctic Marine Living Resources (CCAMLR), the organization with jurisdiction over marine conservation in the Southern Ocean.
The United States strongly supports the sustainable management of marine living resources, and urges members of the Commission to work with the United States and New Zealand to find consensus and take the historic step to protect this special marine ecosystem.
The Ross Sea Region is one of the last and greatest ocean wilderness areas on the planet. It is home to a unique and productive ecosystem that supports vast numbers of whales, penguins, seals and a vast range of marine life. With limited human impact to-date and a long history of scientific exploration and discovery, the Ross Sea Region is also a natural laboratory for scientific study to better understand climate change, our oceans, and our world.