WASHINGTON, D.C. /eNewsChannels/ — On August 9-10, 2010, U.S. Department of State Coordinator for Threat Reduction Programs, Ambassador Bonnie Jenkins, led a U.S. interagency delegation to Dar es Salaam. In consultations with Tanzanian officials, they discussed a range of topics including uranium mining and milling infrastructure; nuclear safety, security, and safeguards; strategic trade and border security; and possible areas of increased cooperation. Representatives from the State Department, Department of Energy's National Nuclear Security Administration, and U.S. Nuclear Regulatory Commission accompanied Ambassador Jenkins.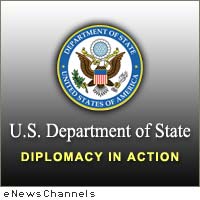 Tanzanian officials were led by the Commissioner for Minerals; and were accompanied by the Chief Inspector of Mines; Directors for Science and Technology (Ministry of Communication Science and Technology) and Policy and Planning (Ministry of Foreign Affairs and International Cooperation); Chief Executive Officers from Tanzania Atomic Energy Commission, Surface and Marine Transport Regulatory Authority, Tanzania Ports Authority, and Tanzania Revenue Authority; and representatives from the State House and Ministry of Home Affairs.
These discussions mark an important beginning of U.S.-Tanzanian efforts to work more closely together on mutually held international security and nonproliferation objectives.
While in Dar es Salaam, Ambassador Jenkins also visited the University of Dar es Salaam. She engaged a group of professors in a lively discussion about U.S. and international threat reduction programs and President Obama's vision of a world free of nuclear weapons. Ambassador Jenkins concluded her visit to the University by meeting with a group of female university students with whom she shared her educational and professional experiences. She advised the students to be "open to new possibilities." "The greatest rewards come from meeting the biggest challenges," said Jenkins. She encouraged the women to act as role models for those who follow in their footsteps at the University.