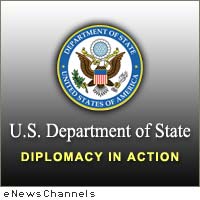 WASHINGTON, D.C. /eNewsChannels/ — The United States and Costa Rica today launched a three-year higher education partnership aimed at promoting sustainable manufacturing and economic growth in Latin America. The partnership will help create a modern workforce to implement cleaner production practices and foster regional collaboration, meeting the goals of Pathways to Prosperity in the Americas and promoting environmental cooperation with CAFTA-DR countries.
Supported by the U.S. Department of State's Bureau of Oceans and International Environmental and Scientific Affairs and Bureau of Western Hemisphere Affairs, this education partnership is a multi-national effort known as "Pathways to Cleaner Production in the Americas," a collaborative effort between Higher Education for Development (HED) and the World Environment Center (WEC). Working with HED and WEC, the Illinois Institute of Technology (IIT) will lead the cross hemispheric academic network, partnering with the New York Institute of Technology, Costa Rican Institute of Technology, Santo Domingo Institute of Technology of the Dominican Republic, "José Simeón Cañas" of Central American University of El Salvador, and San Ignacio de Loyola University of Peru. The United States is also expanding this partnership into Nicaragua, Honduras, and Guatemala in the coming months.
The partnership will enhance academic training and curricula in cleaner production and sustainable industrial development and will provide opportunities for students to gain practical experience by working directly with micro-, small- and medium-sized enterprises (MSMEs). In partnership with the private sector, this initiative will improve environmental performance and productivity of MSMEs, resulting in reduced energy and water use, decreased pollution, and cost-savings in Pathways countries.
The formal launch of the partnership was presided over by U.S. Embassy San Jose Director of Environment for Central America and the Caribbean Alain Norman, Costa Rican Minister of Science and Technology Alejandro Cruz, Costa Rican Minister of Environment René Castro, and World Environment Center President and CEO Terry Yosie at the Costa Rican Institute of Technology's Center for Technology Transfer.