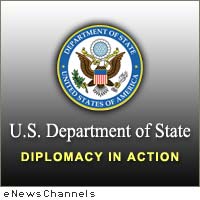 WASHINGTON, D.C. /eNewsChannels/ — The U.S. Department of State is pleased to announce the selection of the two U.S. representatives for the 7th United Nations Educational, Scientific, and Cultural Organization (UNESCO) Youth Forum. Blair Brettschneider of Chicago, Illinois and Andrew Hanna of Jacksonville, Florida will travel to UNESCO Headquarters in Paris this October to participate in the biennial conference.
The UNESCO Youth Forum brings together youth from over 80 countries and gives them a voice on how UNESCO addresses global problems within its mandate. At the Forum, youth delegates will discuss UNESCO's work and provide recommendations on how UNESCO can better foster youth development and strengthen youth participation in civic life. The outcome from the Forum will be forwarded to the UNESCO General Conference for consideration.
Blair Brettschneider graduated from the University of Miami with a Bachelors degree in Communication and American Studies in 2009. Brettschneider currently serves as a Development Assistant for RefugeeOne, a program that helps refugee girls adjust to life in the United States. Andrew Hanna is a sophomore studying Public Policy at Duke University. Hanna serves as the Duke University Class of 2014 President and was a Global Youth Summit American Delegate in 2010.