PHILADELPHIA, Pa. — The City of Philadelphia awarded U.S. Facilities, Inc. (USF) a four-year contract for facilities operations, maintenance and support services at three of The City's largest municipal buildings (TRIPLEX) located in Center City, Philadelphia.
The three high-rise buildings in the TRIPLEX contract include the Municipal Services Building which houses city offices and customer services; Criminal Justice Center which provides courtrooms, judge's chambers, holding cells and judiciary support functions; and the One Parkway Building which provides executive and general office space for various city departments. In total, the TRIPLEX buildings occupy over 1.4 million square feet.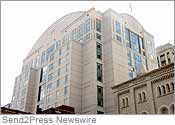 At TRIPLEX, USF provides 24/7 building operations and maintenance services through an assigned staff of managers, supervisors and skilled technicians. USF also provides support services through specialized subcontractors that include security and custodial services, elevator maintenance, landscape maintenance, snow and ice removal, and water treatment.
USF continues to partner with The City in developing and implementing cost effective, energy saving "green" initiatives.
Since 1967, U.S. Facilities, Inc. has provided professional facilities management and infrastructure support services to federal, state and municipal government agencies and commercial enterprises. USF is a nationally recognized minority owned company with a proven record of program success and sustained growth in the industry.
More information: www.usfacilitiesinc.com/contact.html
[tags]City of Philadelphia, US Facilities Inc, USF facilities management, infrastructure support services[/tags]