ROCHESTER, N.Y. — Worldleaders Inc., an innovative executive search firm for building great businesses at every level, announces that Robert Park, JD will head a new practice with special expertise in mergers and acquisitions, venture capital markets and related strategies. Over 90% of Worldleaders' executive search clients are emerging growth companies. Emerging growth companies are characterized by a stated commitment to some combination of aggressive expansion, significant turnaround, new market development and/or clear succession strategies.
Joe Morone, Worldleaders President, notes, "Whether times are good, tough or great, each of the emerging growth companies that we serve needs a unique breed of leader to plan, drive and stay ahead of change. Bob Park brings proven financial expertise, legal acumen, and the cultural assessment skills needed to identify such talent."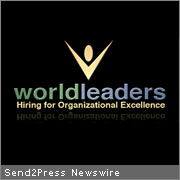 Morone adds, "Executive compensation is critical in finding the right leaders. Bob will also be able to draw on Worldleaders' proven expertise in designing packages that clearly connect achievement with company goals."
Well-known among investment banks and private equity firms in NYC, Boston, Chicago, San Francisco and Los Angeles, Robert Park has a fifteen-year track record of success. Among his accomplishments, he co-founded and managed a successful boutique executive search firm and served as an M&A advisor at Andersen. He is an active member of the National Investment Banking Association, the American Bar Association and the New York Bar Association.
Park notes, "Identifying the A-players for a particular executive search is essential but never sufficient. What pleases me most about joining Worldleaders is their well-deserved reputation for negotiating placements that work for both companies and executives, and then standing behind those placements."
About Worldleaders
Great businesses are built at every level, by real leaders creating vision and driving results. Worldleaders was founded to help companies hire leaders. Headquartered in Rochester, NY, the firm conducts executive search services worldwide. Functional practices include executive leadership, human resources, sales and marketing, finance and accounting and information technology.
As former board directors, corporate presidents, senior vice presidents and vice presidents, Worldleaders brings practical functional and strategic expertise. By leveraging industry leading and proprietary research tools and processes, Worldleaders consistently searches and locates the highest performing professionals. Taken together, the correct combination of people, processes and technology is the Worldleaders edge in signing leaders for executive search clients.
More information: http://www.worldleadersjobs.com.
[tags]executive search firm, Joe Morone, Robert Park JD[/tags]