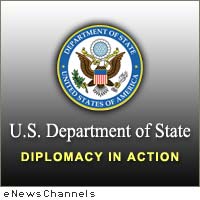 WASHINGTON, D.C. /eNewsChannels/ — The U.S. Department of State's Bureau of Educational and Cultural Affairs announced today that musicians from 21 countries will travel to the United States to engage audiences as part of One Beat. Beginning September 10 in New Smyrna Beach, Florida, OneBeat, a cultural diplomacy initiative, will connect international musicians with American musicians and audiences, especially underserved youth.
The OneBeat program will tour to Charleston, SC; Asheville, NC; Floyd, VA; Roanoke, VA; Washington, D.C.; Philadelphia, PA; and New York, NY to engage with local musicians, and conduct outreach workshops with local youth. Partnering with Bang on a Can's Found Sound Nation, these musicians will perform in ensembles, reinvent traditional tunes, compose original work, record in the state-of-the-art OneBeat mobile studio, and prepare for performances and educational workshops. To learn more about the OneBeat musicians and tour dates, go to www.1beat.org.
OneBeat builds on Secretary of State Hillary Rodham Clinton's vision of "smart power" which embraces a full range of diplomatic tools, in this case music, to bring people, especially youth, together to foster greater understanding.
The U.S. Department of State's Bureau of Educational and Cultural Affairs promotes mutual understanding between the United States and other countries through a wide range of academic, cultural, private sector, professional, and sports exchange programs. The Bureau's cultural exchanges support U.S. foreign policy, foster America's artistic excellence, and demonstrate America's respect and appreciation for other cultures and traditions. For more information, visit www.exchanges.state.gov.