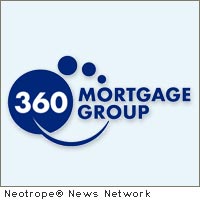 AUSTIN, Texas /eNewsChannels/ — Austin's 360 Mortgage Group, a privately owned wholesale mortgage bank, welcomes Ayesha Kleinjan as an account executive. Vanderliet brings more than eight years of experience in residential lending.
Prior to joining 360 Mortgage Group, Kleinjan worked as a senior loan processor at Union Bank for RemX, a senior mortgage loan advisor for Home Loan Enterprise and an account executive for American Mortgage Network. Kleinjan currently holds a California real estate license and is affiliated with Wholesale Banking Network, Mortgage Executives and Account Executives, American Mortgage Network and American Residential Alumni, the San Diego Association of REALTORS®, the California Association of REALTORS® and the National Association of REALTORS®. In addition, Kleinjan has consistently been a top 10 percent producer in originations and funding in the Western Division at her previous employers. Kleinjan holds a Bachelor of Science in business and finance from the University of Phoenix.
"The primary reason I decided to join 360 Mortgage Group is because the people I know that work here are people that I've worked with for years, and I knew that we would work together like a well-oiled machine," Kleinjan said. "Another reason why I decided to join 360 is because the more I talked to Greg Fullmer – 360's Mountain West Regional Manager – the more I realized how progressive of a company 360 is with its technology. Also, the clients at 360 are so broker – and customer service – driven that I knew I just couldn't go wrong by working here."
"Ayesha is a great AE to work with, and she is willing to go above and beyond all expectations," said Mitch Palmer, a loan officer at RPM Mortgage. "She has a very in-depth knowledge of the banking/mortgage business with many years of experience. Ayesha understands the pressure that we are all under when dealing with rush files and REALTORS® in the purchase atmosphere, and she also understands the level of service that we all expect. I know all of us loan officers are a bit demanding at times. Ayesha can handle the pressure with a very professional attitude and can make a difficult situation much less stressful."
About 360 Mortgage Group, LLC:
Established in 2007, 360 Mortgage Group, LLC (www.360mtg.com) is a privately owned mortgage bank that has successfully utilized its high-technology platform to provide better communication and customer service to business partners. An approved Fannie Mae seller/servicer, 360 Mortgage Group is centralized in Austin, Texas and services more than 25 cities across the United States.
Copyright © 2011 Neotrope® News Network – all rights reserved.