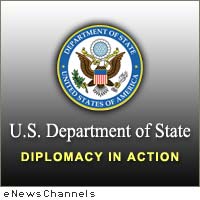 WASHINGTON, D.C. /eNewsChannels/ — Entrepreneurs and business leaders from 30 countries will travel to the United States from September 24 through October 12 as participants in the "A New Beginning" International Visitor Leadership Program. The exchange, now in its third year, is a special initiative developed following President Barack Obama's April 2010 Presidential Summit on Entrepreneurship in Washington.
A New Beginning aims to deepen ties between entrepreneurs in the United States and those from around the world. Alumni of the exchange return to their countries with new ideas for collaboration, growing their businesses, and accessing markets.
During their three-week visit, the participants will meet with leading American entrepreneurs, business executives, and government officials in Washington, Denver, Portland, Dallas, and New York. Private sector partner Entrepreneurs' Organization (EO), a network of 8,000 business owners in 40 countries, will engage participants in interactive activities in each of the U.S. cities.
Entrepreneurs participating in this year's program will arrive from Albania, Bolivia, Brazil, Bulgaria, Burma, Burundi, Cambodia, Colombia, Costa Rica, Djibouti, Egypt, Germany, Ghana, Greece, Haiti, India, Iraq, Kazakhstan, Kuwait, Lesotho, Morocco, Namibia, Nigeria, Papua New Guinea, People's Republic of China, Saudi Arabia, Serbia, Slovenia, Thailand, and Vietnam.
The International Visitor Leadership Program, within the Bureau of Educational and Cultural Affairs, is the U.S. Department of State's premier professional exchange program. The program connects current and emerging foreign leaders with their American counterparts through short-term exchanges to build mutual understanding on foreign policy issues.