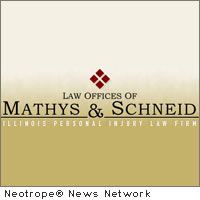 LOUISVILLE, Ky. /eNewsChannels/ — Naperville, Illinois trial attorney Mark W. Mathys of LAW OFFICES OF MATHYS & SCHNEID obtained a jury verdict against two doctors on behalf of his client Micheatria Donelson last week (October 6, 2011); case NO. 07-CI-01768. In February 2006, Donelson went into labor after just 21 weeks of pregnancy, and her child, Prince Embry, was decapitated during the premature delivery.
Mathys alleged that Dr. William Koontz failed to properly treat Donelson's high-risk pregnancy by improperly placing a cerclage, which is a purse string type device to keep the cervix closed and prevent a premature birth. But when that cerclage failed to do its job, Dr. Koontz's partner, Dr. Joseph Bilotta, failed to remove the device when Donelson went into spontaneous pre-term labor. The purse string acted like a noose around the baby's neck during the double-footling breech delivery causing baby Prince's head to be decapitated. Donelson witnessed this entire horrific event, including watching her son's headless body handed to the nurse, the chin ripped off and the head delivered.
As a result of watching her child decapitated, Donelson suffers from post-traumatic stress disorder, anxiety and depression. The $1.4 million award was exclusively for Donelson's past and future pain and suffering related to her emotional injuries.
"Justice was served here today," said Mathys. "The jury heard Micheatria's ordeal, felt her pain, and understood the significant harms and losses she endured. This money will allow her to receive the psychological care she desperately needs to try and live as normal a life as possible."
Unfortunately, Prince Embry was only 21 weeks old, was not considered viable and therefore not entitled to any independent recovery for wrongful death under Kentucky law.
Mathys, stated that the wrongful death law in Kentucky regarding the need to prove viability is archaic and unfair to pregnant mothers. "It allows the worst care to go unpunished, so that if the pregnancy fails to reach 24 weeks gestation, doctors cannot be sued for the infant's wrongful death."
Local Louisville attorneys Wade Yeoman and Larry Jones of JonesWard PLC were instrumental in helping Mark Mathys obtain justice for Ms. Donelson.
Contact:
Mark Mathys of LAW OFFICES OF MATHYS & SCHNEID, +1-630-428-4040, www.mathyslaw.com .
Copyright © 2011 Neotrope® News Network – all rights reserved.