FREDERICKSBURG, Texas — African American artist Jonas Perkins commemorates historic election with original jewelry line. Perkins, a sculptor from Fredericksburg, Texas, announced today that he decided to show his support for Barack Obama through the medium that he knows best, metal. He has designed a unique line of sterling silver jewelry that features Obama's best known campaign slogans "Yes We Can" and "Change You Can Count On." The line includes several styles of earrings, a pendant, and a lapel pin. The collectible hand-crafted jewelry allows people to show their support for Barack Obama in a stylish, unique way.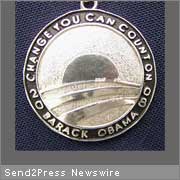 Perkins says his motivation for creating the Obama jewelry line comes from his appreciation of Obama's political ideals and the historic nature of his nomination. "I really wanted to memorialize this historic nomination. As an African American man in my sixties I never really expected to see this day."
He added, "Barack Obama's nomination means to me that our country now has the opportunity to champion the cause of disenfranchised people. I wanted to do something special to help support his campaign and to give people a chance to have a unique memento of this very special time in U.S. history."
Perkins has been a sculptor for forty years and has had pieces commissioned from U.S. presidents, governors and congressmen. His sculptures have earned him numerous awards and appear in town centers, libraries, corporate headquarters and museums.
His Obama jewelry line can be seen at and his sculptures can be seen at http://www.jonasperkinssculptor.com. (The jewelry line is neither endorsed by, nor authorized by, Mr. Obama.)
[tags]Barack Obama jewelry line, African American artist[/tags]