LAS VEGAS, Nev. — Obsello, an authentic award-winning absinthe verte along with award-winning, world-renowned French restaurant Bouchon in Las Vegas, are giving guests the opportunity to travel back in time and place – back to 1845 Paris, France at the height of the absinthe revolution to experience the original "Green Hour" — or "l' heure verte." The original "Green Hour" originated in France in the mid-1800's and beckoned dedicated absinthe patrons to gather in cafes and taverns from 5 p.m. to 8 p.m. every day where inspiration, conversation and of course "the green fairy" reigned queen. It is the mother of our current day "Happy Hour."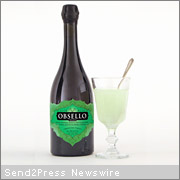 Absinthe was so profound during the height of its popularity that come the twilight hours, the smell of absinthe would reportedly permeate the streets of Paris. Many believe absinthe, along with all of the accompanying tradition and rituals, actually inspired the Modernist Era. Artists such as van Gogh, Oscar Wilde and Ernest Hemingway have openly attributed their genius to the drink that was eventually banned in 1912 over its purported psychotropic effects.
Obsello and Bouchon invite patrons to join them in a trip back in time to experience this mysterious witching hour at the French Las Vegas eatery that is most apropos — with mosaic tiled flooring, magnificent pewter bar and enchanting French art murals.
Dedicated clientele, business travelers and anyone feeling like a bit of romance will have the chance to breathe in the fresh aroma of absinthe, strike up unusual and captivating conversations with strangers hauntingly familiar, and enjoy dishes made conceived by one of America's most critically acclaimed chefs and owner of Bouchon, French Laundry and Per Se — Thomas Keller. Of course, absinthe will be offered up in the traditional presentation and style, served from classic and ornate absinthe fountains.
Don't be surprised if ghosts from the past join you for a drink and speak of things as you wish they were.
About Bouchon Las Vegas
Bouchon is the vision of world-renowned chef Thomas Keller, named "America's Best Chef" by TIME magazine. The French word "bouchon" describes a particular style of cafe that has existed in the province of Lyon for centuries. The restaurant offers traditional French country fare such as steak frites, roast chicken, boudin noir and trout amandine. The seasonal menu changes throughout the year and is enhanced by a blackboard menu that features the best products available each day and are complimented by an extensive international wine list and carafe program. An outdoor patio overlooking lush gardens and the Roman-style pools is the ideal place to enjoy Bouchon's breakfast menu, which Las Vegas Life Magazine chose as the place to have the best breakfast in Las Vegas. Please visit us at http://www.bouchonbistro.com.
About Obsello
Obsello Absinthe is an award-winning, authentic absinthe that is twice distilled with eight natural herbs including grande wormwood, anise and fennel. Hand-crafted in small batches in Europe, Obsello is made in traditional alembic stills using an un-aged brandy base from Penedes wine stock. Obsello embraces original absinthe production, once banned in the early 1900's, and excludes any artificial flavoring, coloring or essences.
With honey and vanilla undertones, a noticeable lack of bitterness, and a hypnotic velour mouth feel, the taste of Obsello stands clearly apart from competitor brands. Please visit us at http://www.Obsello.com.
[tags]French restaurant, Bouchon in Las Vegas, Obsello Absinthe, Green Hour[/tags]