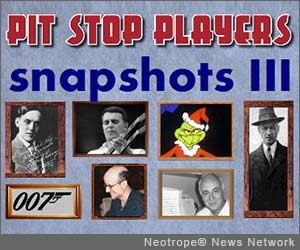 NEW YORK, N.Y. /eNewsChannels/ — The Pit Stop Players, a twelve-member instrumental ensemble composed of veteran Broadway pit musicians, will present its third annual "Snapshots" concert on Monday, February 11, 2013, at 7:30 p.m., at the Leonard Nimoy Thalia at Peter Norton Symphony Space, 2537 Broadway at 95th Street.
The group members will perform pieces by Charles Ives, Ernesto Lecuona ("the Cuban Gershwin"), Jeff Levine, David Wolfson, and John McLaughlin (of the fusion group Mahavishnu Orchestra), and Joshua Rosenblum, the group's founder and music director. The program will also feature an arrangement of Paul McCartney's James Bond title song "Live and Let Die," and a set of variations on "You're a Mean One, Mr. Grinch."
"I think we're the only group in town that covers this much ground stylistically," said Rosenblum. "On this concert we go from contemporary classical to pop to jazz to fusion. That way, if you don't like a piece, just give us a few minutes, and we'll be on to something completely different."
WHAT: Pit Stop "Snapshots III"
WHEN: Monday, February 11, 2013 at 7:30 p.m.
WHERE: Leonard Nimoy Thalia at Peter Norton Symphony Space, 2537 Broadway at 95th Street.
TICKETS: $25 ($15 for Students and Members) at (212) 864-5400 or symphonyspace.org .
INFO: www.symphonyspace.org/event/7291-pit-stop-players .
The Pit Stop Players, who collectively have played in pit orchestras for over 100 Broadway productions, include Ed Matthew, woodwinds; Steve Kenyon, woodwinds; Chris Jaudes, trumpet; Wayne Goodman, trombone; Dan Culpepper, horn; Robin Zeh, violin; Paul Woodiel, violin; Mairi Dorman-Phaneuf, cello; Jeff Carney, bass; Greg Landes, percussion; Garah Landes, piano; and Joshua Rosenblum, piano.
Rosenblum, who founded the Pit Stop Players in 2009 as a means of giving Broadway musicians a chance to climb out of the pit and take center stage, says that nearly any genre is fair game for their programs. However, the primary emphasis is on new compositions and arrangements, written and orchestrated specifically for the group.
Rosenblum, who was trained as a classical pianist, has led the orchestras for thirteen Broadway and Off Broadway shows, including "Wonderful Town," "Chitty Chitty Bang Bang," "The Music Man," "Miss Saigon," and "Dr. Seuss's How the Grinch Stole Christmas." He is also the composer/creator of BUSH IS BAD, the hit Off Broadway satirical revue, and the composer/co-lyricist of "Fermat's Last Tango" and "Einstein's Dreams." His instrumental music has been recorded on two CDs: "Impetuosities" and "Sundry Notes," both on the Albany Records label.
Rosenblum has written pieces on commission for Phil Smith, principal trumpeter of the New York Philharmonic; Ethel, America's premiere post-classical string quartet; and the Chase Brock Experience dance troupe, among many others. He teaches Composing for Musical Theater at Yale University, his alma mater, and was recently awarded a grant from the Signature Theatre in Washington, D.C., as part of the American Musical Voices Project: The Next Generation.
Videos on YouTube: www.youtube.com/user/pitstopplayers/videos?view=0 .
Copyright © 2013 Neotrope® News Network – all rights reserved.