LOS ANGELES, Calif. — To remind Californians how simple it is to make a contribution to one or more of the fifteen charitable funds participating in the state's voluntary tax check-off program, the month of March has been declared Checkoff California Month. "Our Golden State is home to countless generous people dedicated to making a difference," stated California Governor Arnold Schwarzenegger in his message for Checkoff California Month. "I encourage everyone filing their California tax return to continue this proud legacy of giving back by checking off certain boxes to fund some important causes."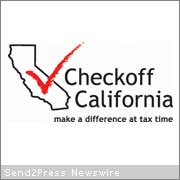 California is one of 41 states that allow taxpayers to make a voluntary, tax-deductible contribution to one or more worthwhile causes in the "Contributions" section of their state tax return. Since 1984, California's tax check-off program has raised $85 million and provided critical funding to a diverse range of public health, social service, and environmental protection programs.
The funds participating in the Checkoff California campaign are: the Alzheimer's Disease/Related Disorders Fund, the California Breast Cancer Research Fund, the California Firefighters' Memorial Fund, the California Military Family Relief Fund, the California Fund for Senior Citizens, the California Peace Officers' Memorial Fund, the California Sea Otter Fund, the California State Children's Trust Fund, the Rare and Endangered Species Prevention, the Emergency Food Assistance Program, the California Cancer Research Fund, and the ALS/Lou Gehrig's Disease Research Fund.
The annual Checkoff California media campaign, now in its third year, reaches out to taxpayers and tax preparers to deliver the message that, regardless of income, everyone can help. Media partners include the Northern California Broadcasters Association, Southern California Broadcasters Association, and the San Diego Radio Broadcasters Association. Corporate sponsorship of Checkoff California is provided for the third consecutive year by Jackson Hewitt Tax Service, an industry leader providing full service individual federal and state income tax preparation nationwide, with more than 300 locations throughout California.
For more information, please visit .
[tags]Checkoff California Month[/tags]