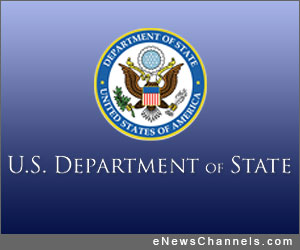 WASHINGTON, D.C. /eNewsChannels/ — The U.S. Department of State has selected Dr. Shubhalaxmi Vaylure of India as International Exchange Alumni Member of the Month for March 2013. Throughout March, Dr. Shubhalaxmi's dedication to building greater environmental awareness in India will be recognized on the International Exchange Alumni website, the Bureau of Educational and Cultural Affairs' official website for the more than one million Department-sponsored exchange alumni worldwide. Each month, the Bureau's Alumni Affairs Division, which supports alumni as they build on their exchange experiences, confers this award on an outstanding alumnus or alumna.
Dr. Shubhalaxmi first came to the United States in 2003 as part of the Fulbright Indo-American Environmental Leadership Program which took her to the University of Montana to study educational nature centers. Upon returning from this program, she drew inspiration from her Fulbright program as she implemented innovative educational programs at the Mumbai Conservation Education Center.
Dr. Shubhalaxmi went on to study non-profit management at Boston University through the Hubert H. Humphrey Program. This experience enabled her to bring her environmental advocacy to a new level. Returning from the Humphrey Program, she developed online courses in natural history and worked in the organization development sector of the Bombay Natural History Society where she conducted staff training workshops and boosted fundraising and marketing efforts to benefit the Center.
In 2012, Dr. Shubhalaxmi and a team of her alumni peers won support from the State Department's Bureau of Educational and Cultural Affairs Alumni Engagement Innovation Fund to provide management trainings for professionals from Indian environmental NGOs. The team has already trained nearly 150 individuals.
To learn more about Dr. Shubhalaxmi, visit the U.S. Department of State Bureau of Educational and Cultural Affairs' International Exchange Alumni website at https://alumni.state.gov/featured-alumni/member-month.