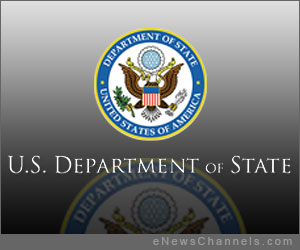 WASHINGTON, D.C. /eNewsChannels/ — Today, the U.S. Department of State announced that three employees have been named as finalists of the 2013 Samuel J. Heyman Service to America Medals, a national awards program that honors the achievements of federal employees.
Andy Rabens, the Special Advisor for Youth Engagement in the Bureau of Near Eastern Affairs, is one of the three national finalists for the Call to Service Medal. He was nominated for organizing the Active Citizen Summit, a 10-day program in the United States for young leaders from the Middle East and North Africa.
Erica Thomas, an Environment, Science, and Technology Officer in Beijing is one of four finalists for the National Security and International Affairs Medal. She and her team were nominated for their work on the air quality monitors at the U.S. Embassy in Beijing, providing accurate readings for Americans living in China.
Claire Votaw, Director of the Project Services Office, is one of four finalists for the Management Excellence Medal. She was nominated for her work on the shared information technology network for American embassies and federal agencies overseas.
The Partnership for Public Service will name the eight recipients of 2013 Service to America Medals, including the Federal Employee of the Year, at a Washington, D.C. gala on October 3rd. Visit www.servicetoamericamedals.org for more information.
The Service to America Medals award was created in 2002 by the Partnership for Public Service, a nonpartisan, nonprofit organization dedicated to revitalizing our federal government by inspiring a new generation to serve and by transforming the way government works.