WILKES-BARRE. Pa. — Howell Benefit Services, Inc. (Howell), with offices in northeastern and central Pennsylvania recently introduced "HowellDIRECT(TM)," a turnkey, web-based employee benefit solution for small and mid-size employers. The product was released on the internet this month and is available to employers in Pennsylvania, New York and New Jersey.
Expansion to other states is scheduled for 2008. Employers can access this service at www.howelldirect.com.
The site allows employers to buy, enroll and administer their group health, dental, life, disability and flex programs. Blue Cross of Northeastern Pennsylvania, United Concordia Companies, Inc., Guardian and Vision Benefits of America participated in the pilot and will benefit from Howell's expansion.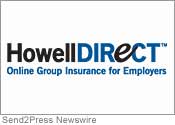 HowellDIRECT(TM) provides a single entry database for enrollment in multiple plans, monthly premium reconciliation and daily customer service for employers with 2-99 employees. Product availability varies by state and region.
The concept's founder, Roger Howell commented, "We believe HowellDIRECT is the new paradigm for managing small and mid-size plans and it will become the norm, not the exception. Smaller employers have limited time and administrative resources and, many have difficulty coordinating their benefit plans. We believe we have a practical and affordable solution."
About Howell:
Howell Benefit Services, Inc. (Howell), with offices in Wilkes-Barre and Lancaster, Pennsylvania, is an employee benefit firm that was founded in 1983. The company provides employers with expertise in group health and welfare benefits, 401(k) plans, executive planning, and human resource technology.
For more information about Howell visit http://www.howellusa.com or 888.831.9966.
[tags]Howell Benefit Services Inc, group health and welfare benefits, human resource technology, HowellDIRECT employee benefit solution[/tags]