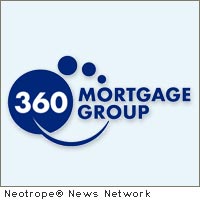 AUSTIN, Texas /eNewsChannels/ — 360 Mortgage Group, a privately-owned wholesale mortgage bank, welcomes Kelly Vietmeier as an account executive. In her 10 years as a mortgage industry professional, Vietmeier has proved to be resourceful in the completion of projects with extensive experience in sales, customer service and products.
Prior to joining 360 Mortgage Group, Vietmeier worked as a sales and administrative assistant for National Pet Vax, LLC, an outside account executive for American Mortgage Network/Vertice/Wells Fargo, a product and pricing specialist for LoanCity.com, a lender services representative for PNC Mortgage Corporation of America and a senior financial services consultant for PNC Bank. Vietmeier studied fine arts at North Allegheny Community College in Pittsburgh.
"One of the main reasons why I joined 360 Mortgage Group is because my former colleague Brad Smith – 360's Regional Production Manager of the Southeast and Mid-Atlantic regions – contacted me," said Kelly Vietmeier. "Brad was an amazing manager when we worked together American Mortgage Network/Vertice so I knew if he decided to work for a company, it must be a great company. I viewed the 360 demo, and that was all it took."
"Kelly is one of those rare reps that not only can think on the fly, but she also follows up with you at any time," said Michael Galasso, owner of Money Link Mortgage. "I believe that you can't just be working on loans between 9 a.m. and 5 p.m., and she is one of those reps that I can count on to get back to me right away. I always feel comfortable sending stuff to her. She's fast, and she's smart."
About 360 Mortgage Group, LLC:
Established in 2007, 360 Mortgage Group LLC (www.360mtg.com) is a privately owned mortgage bank that has successfully utilized its high-technology platform to provide better communication and customer service to business partners. An approved Fannie Mae seller/servicer, 360 Mortgage Group is centralized in Austin, Texas and services more than 25 cities across the United States.
Copyright © 2011 Neotrope® News Network – all rights reserved.